WeFarm
SMS help for coffee farmers
The internet for people without the internet
Over an 18-month period, the ELSE team worked on designing an exciting new platform that enables peer-to-peer information exchange between smallholder farmers around the world, using basic mobile phones.
In collaboration with our client, Manifesto and Conker Group, we developed a communication platform and fully-responsive web application, which enable knowledge sharing between farmers, translation of content by volunteers, and admin management by the WeFarm team.
After seven sprints, and end-to-end testing in the Nandi Hills, Kenya, Wefarm launched late in 2014. Wefarm is a pioneering social enterprise, originally created by Cafédirect Producers' Foundation (CPF), a UK-registered charity, who works with smallholder tea, coffee and cocoa farmers and their organisations.
Knowledge sharing across 2.5 million farmers
Before ELSE began working with Wefarm, there were 15 people testing the prototype in Kenya. Six years later, Wefarm has 2.5 million farmers in East Africa using the platform, and has seen 30 million conversations take place.
Industry recognition
Wefarm earned serious kudos in 2014, picking up a Google Impact Award, and was named amongst the 2014 Nominet Trust 100 (NT100).
Our approach
We worked closely with tech companies, Manifesto and Conker Group, right from the beginning, to get Wefarm up and running as quickly as possible.
The intricacies of designing a system to enable farmers to send questions, receive answers, and share knowledge, in the form of tips via SMS, was a refreshing challenge.
How was it possible to achieve this within the realms of 260 character limits? We did this by adopting a straightforward approach, resisting the temptation to offer more than what was essential and by striving to keep the process and language simple.
Designing for translators and co-op staff members
Wefarm has been designed to be responsive and to cater for two main user groups – translators and co-op staff members. It will also be used by a small minority of farmers who have access to the internet.
It empowers a community of bilingual volunteers to take one minute out of their day, to translate a piece of knowledge on their smartphone or computer.
Translator motivators
A key challenge was finding ways to give volunteer translators enough of an incentive to engage with WeFarm, based on their altruistic motivation.
Translators are able to see statistics of how much they've contributed and how that equates to people they've helped within the Wefarm community.
Future enhancements will see volunteers being able to follow the journey of a question they've translated, giving them a sense of the reach of their contribution via a map.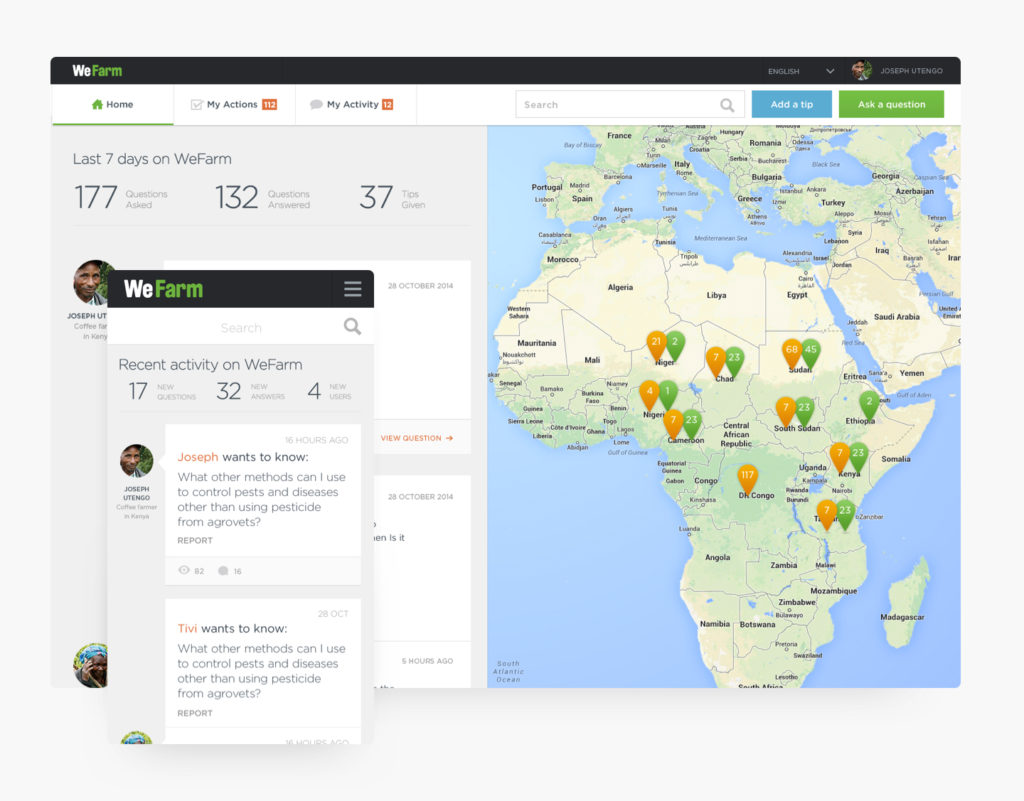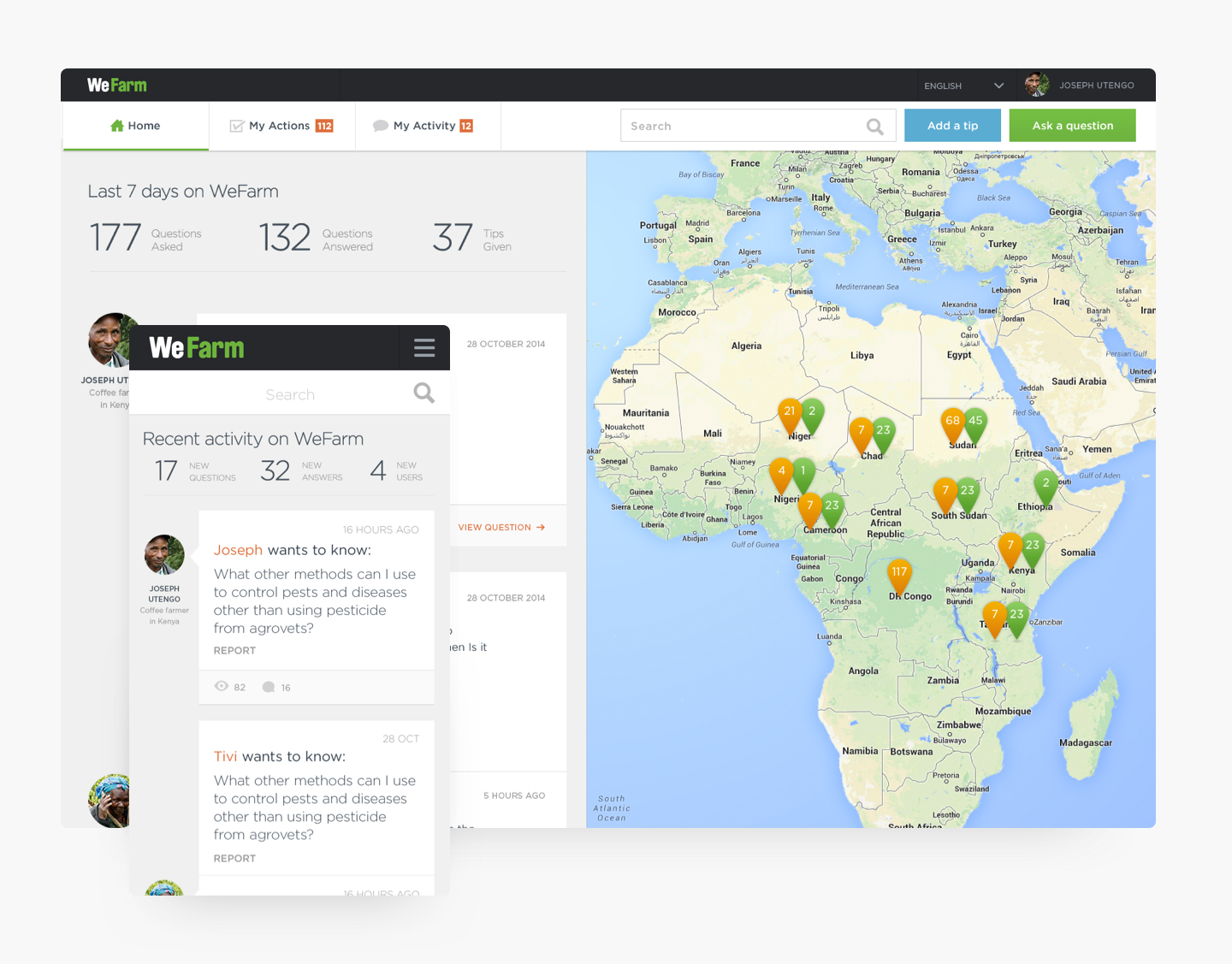 The app encourages co-op staff members to share their knowledge by answering farmers' questions. A prioritised and relevant list of questions that's easy to access, makes this easy to do. Most importantly, they are able to search all Wefarm content, so they can share relevant knowledge with the farmers they work with.
Elegant simplicity
We developed a look and feel for Wefarm that was as simple and clear as possible. "Elegant simplicity" is embedded in ELSE's design philosophy, and this especially holds true when designing for people with very limited online experience.
We've employed a simple colour scheme to tell apart different types of content on screen. When it's a question, an orange speech bubble icon is used. For answers, the colour is green. The idea is to provide a visual cue to the places more answers are required, as can be seen on the homepage below. Tips appear in blue and are independent of Q&As.
How it works
A farmer can sign up to the service by texting Join Wefarm. Wefarm then replies, asking for their name. A basic profile gets created for the farmer, so they can begin asking questions and helping other farmers.
To submit a question, the farmer must text Q# followed by their question. WeFarm then directs the question to a selection of farmers, who have the expertise to answer it, straight to the questioner's mobile phone.
The question also appears on the web. This is where volunteer translators step in, to dramatically widen the pool of farmers available to answer.
The Wefarm team also push out tips, based on common questions and actionable ideas, so farmers have access to a constant stream of knowledge, enabling them to maximise income from their harvest and animal keeping.
Behind the scenes
"Having worked with several digital and creative agencies over the last few years, I hold ELSE in very high regard. They produce extremely high quality work, and care about making clients feel valued and part of the process. I wouldn't hesitate to work with them again, or to recommend them to others. We are extremely pleased with the work they have done for us, and the passion they brought to the project throughout. Having worked with the on a particularly challenging User Experience project, we were particularly impressed by their creativity and problem solving."
Kenny Ewan, WeFarm