Redesigning Loterie Romande's eGaming platform.
Founded in 1937 with the objective of working for public good, Loterie Romande is the lottery provider for the 6 French-speaking Swiss Cantons. With values of respect, trust and loyalty, Loterie Romande (LoRo) is a well known Swiss institution.
An estimated 63% of the French-speaking Swiss population are Loterie Romande players, but the online offer was outdated and inflexible so needed a large rethink. ELSE worked with Camelot Global Services to deliver a new platform that provided more opportunity to players and the business alike.
Bringing LoRo to the modern digital age
We were asked to work with LoRo and Camelot Global to deliver a new, modern and consistent design system for LoRo's gaming platform (jeux.loro.ch). Mobile should be at it's core and it should visually fit with the newly launched corporate website.
KPIs to support business objectives for 2017 included 8% sales growth, 10% registrations growth and 6% active players increase. In short: more players, more registrations, more repeat usage.
A key question from the brief was: 'How can we create a modern, relevant and personalised experience for our players?'
7 Principles of lottery gameplay
It should be fun, exciting and feel alive
Playing a game is emotional, it's fun and exciting – so we should look for ways to engage the user on an emotional level.
We can use time data, usage data, win data and more to bring the presentation to life.
Excite players with the potential to win big
The potential of the 'big win' is what drives play, so, where possible, let's show the user that people win on this site and that they are currently winning.
Showing biggest win this month / week / day, total wins, wins by game etc will help bring the gameplay to life.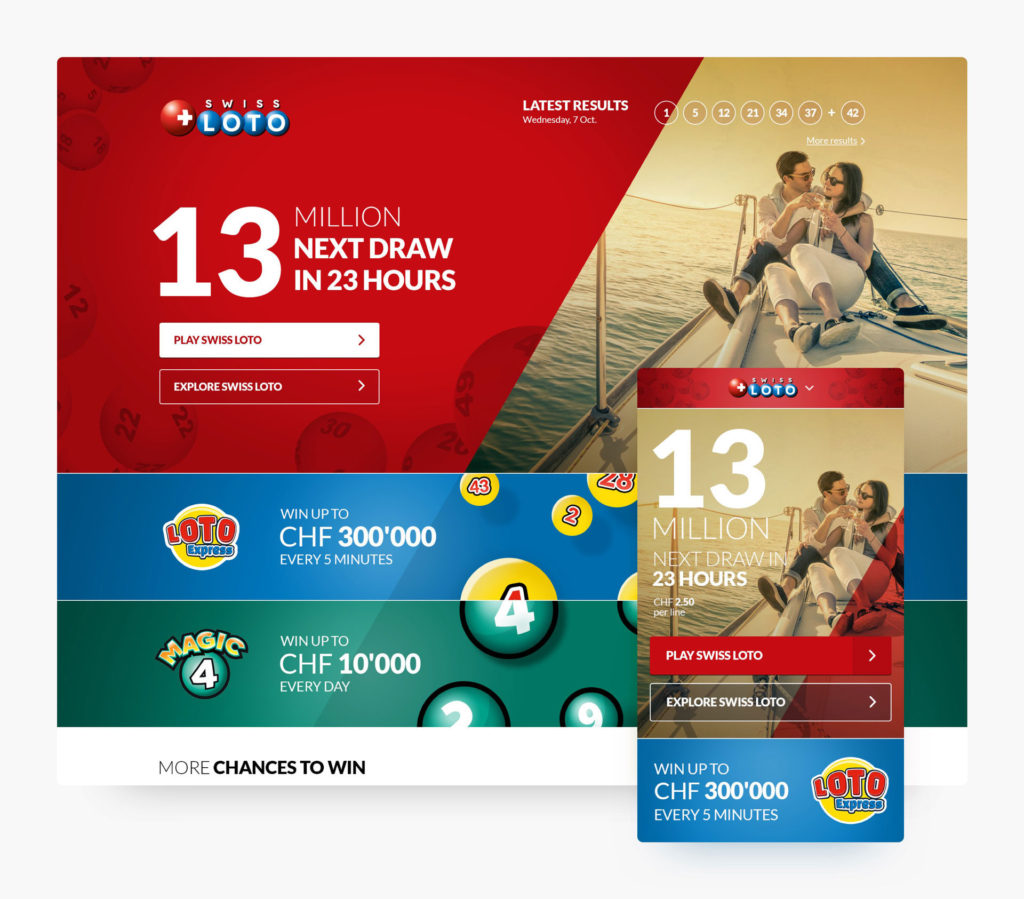 Lead on the next big event and do it with drama
Play to this sense of occasion and lead on those events on those given days.
Users should be engaged with the lead up to the next big event and this naturally provides an opportunity to keep the site fresh and relevant.
Decrease searching to increase playing times
We want users to be playing games within 1-2 clicks where possible.
This requires timely placement, personalisation, but also a shallow and accessible navigational architecture – but one you can live with over time.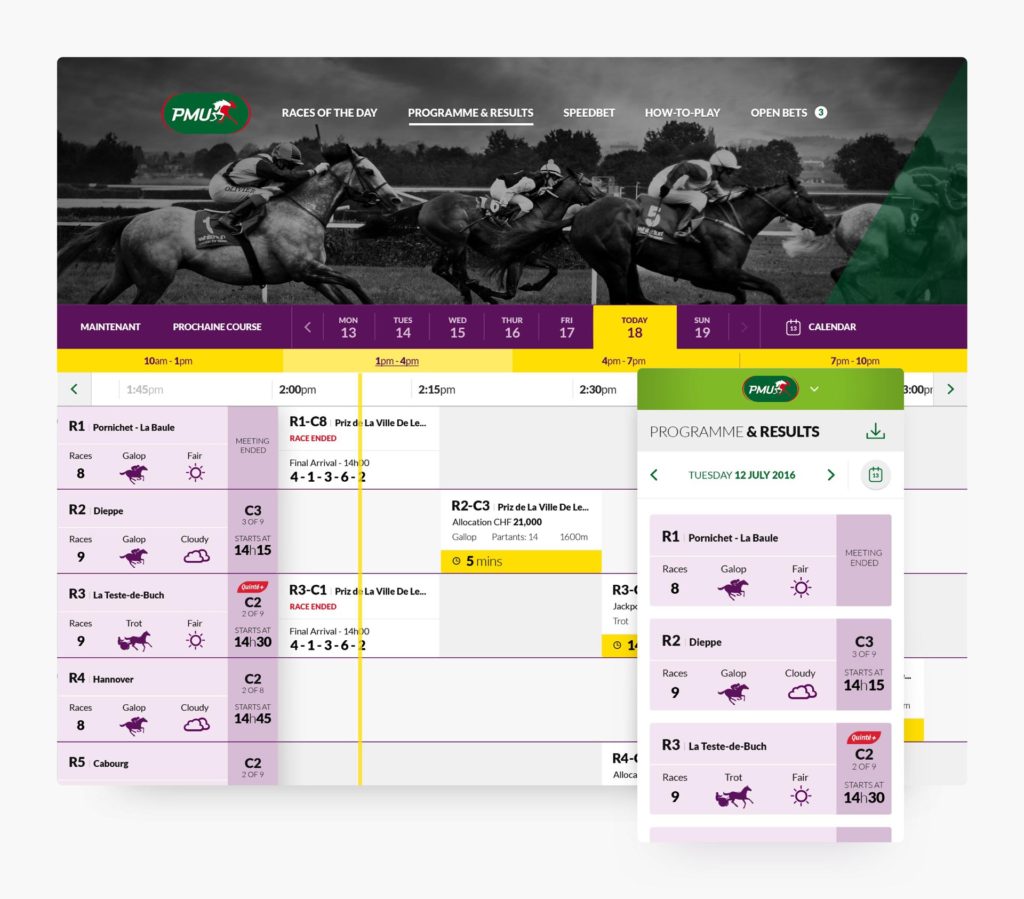 Have fun with data, be cute
There are lots of fun things that can be done with the data behind the games, particularly the lottery.
Players like patterns and myths so display interesting trends on the data such as common winning combinations, rare numbers, hot and cold numbers / combinations
Create added value for registering
Increasing registrations is a key objective so we need to make it useful and really simple.
We can allow people to store numbers, manage syndicates, reminders, potentially auto-top up and so on. But the logged in experience should be a bit better than that.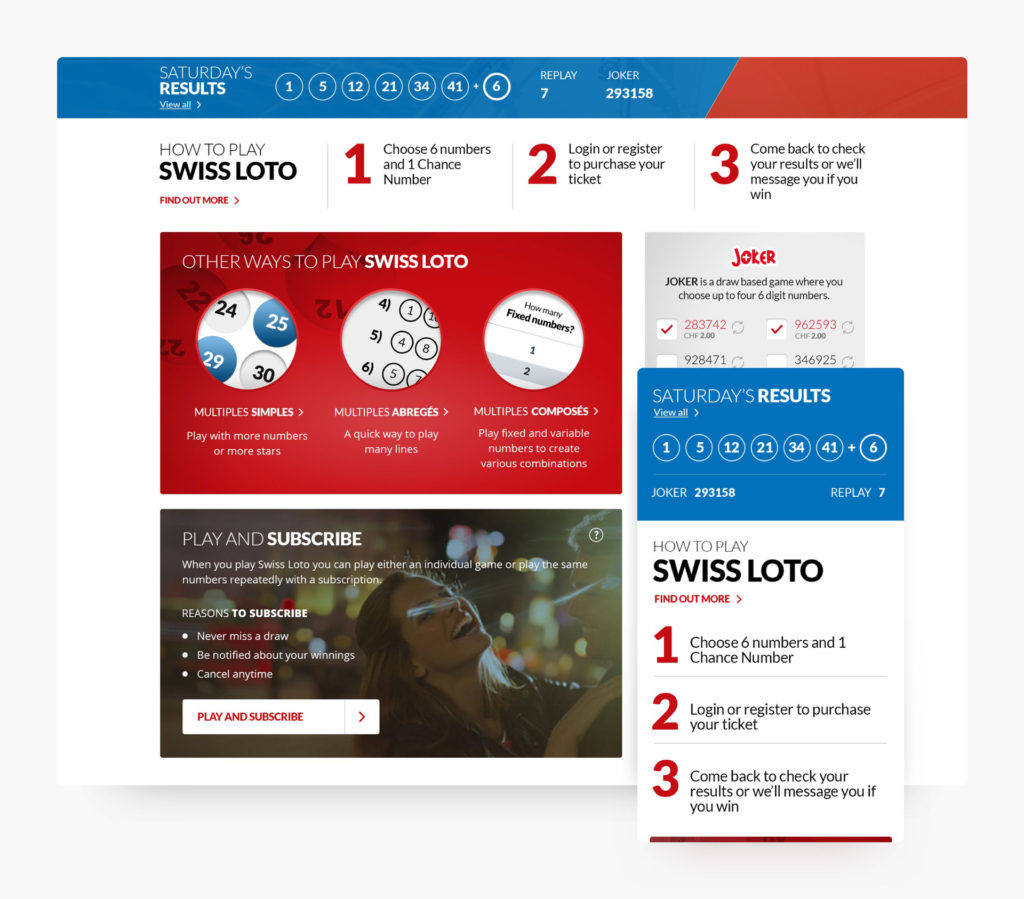 Mobile first
It's a given and so is a short, snappy and easy to use UI.
We'll create drama by focussing on the next event, but we should have a very accessible service. Simple navigational structures, enabling any game to be played within 2 clicks for example.
The rhythm of the draw
LoRo's eGaming offer spans across 4 main verticals: Draw Based Games, Sports Betting, Horse Race Betting and Instant Win Games.
These verticals follow a weekly rhythm of draws and events. The new LoRo website will dance to this rhythm, shifting and reshaping itself, on certain key pages, to better showcase the offer.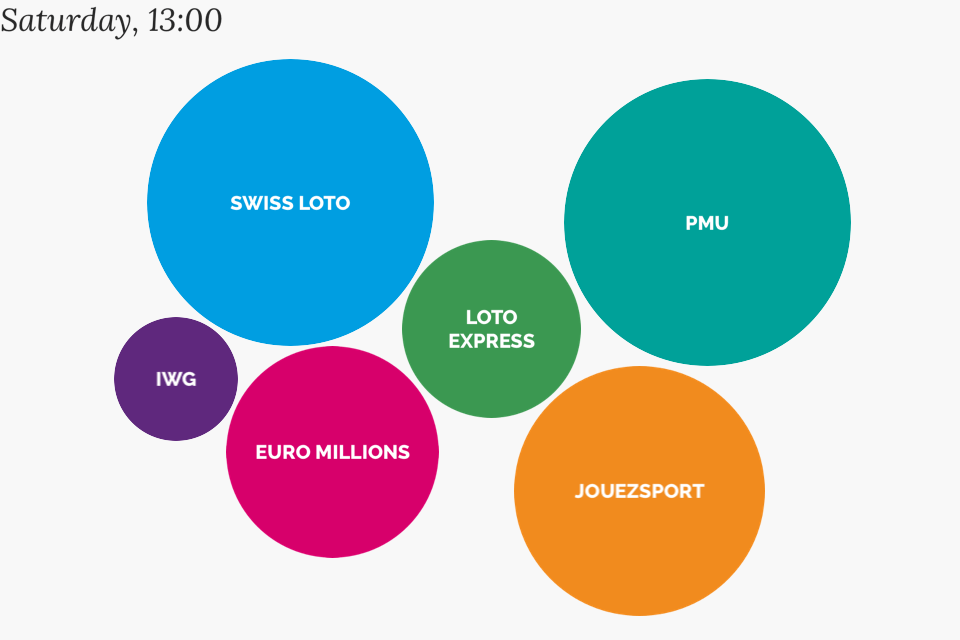 One platform to rule them all…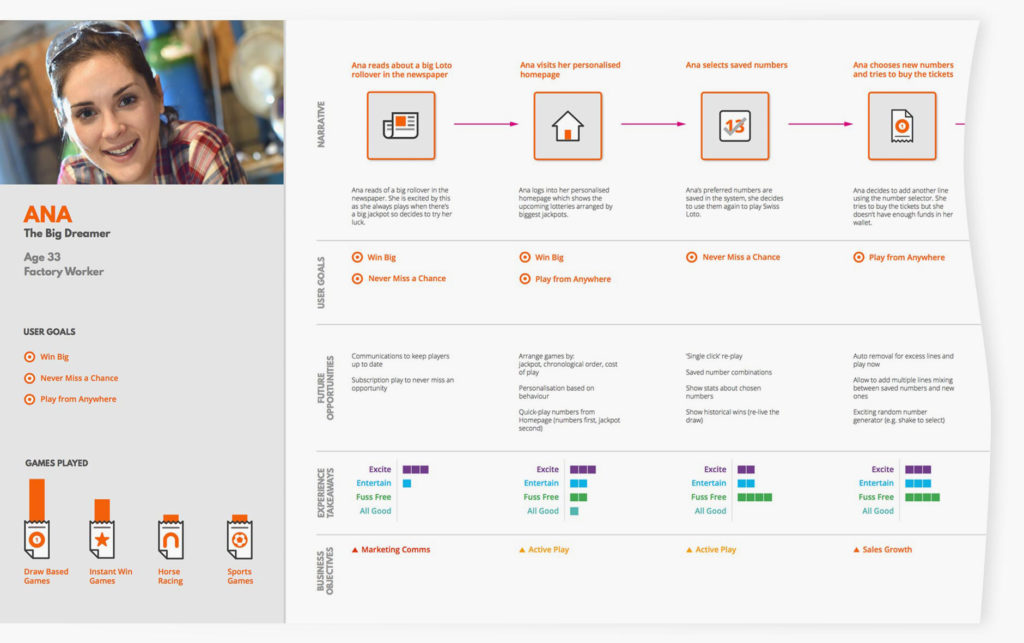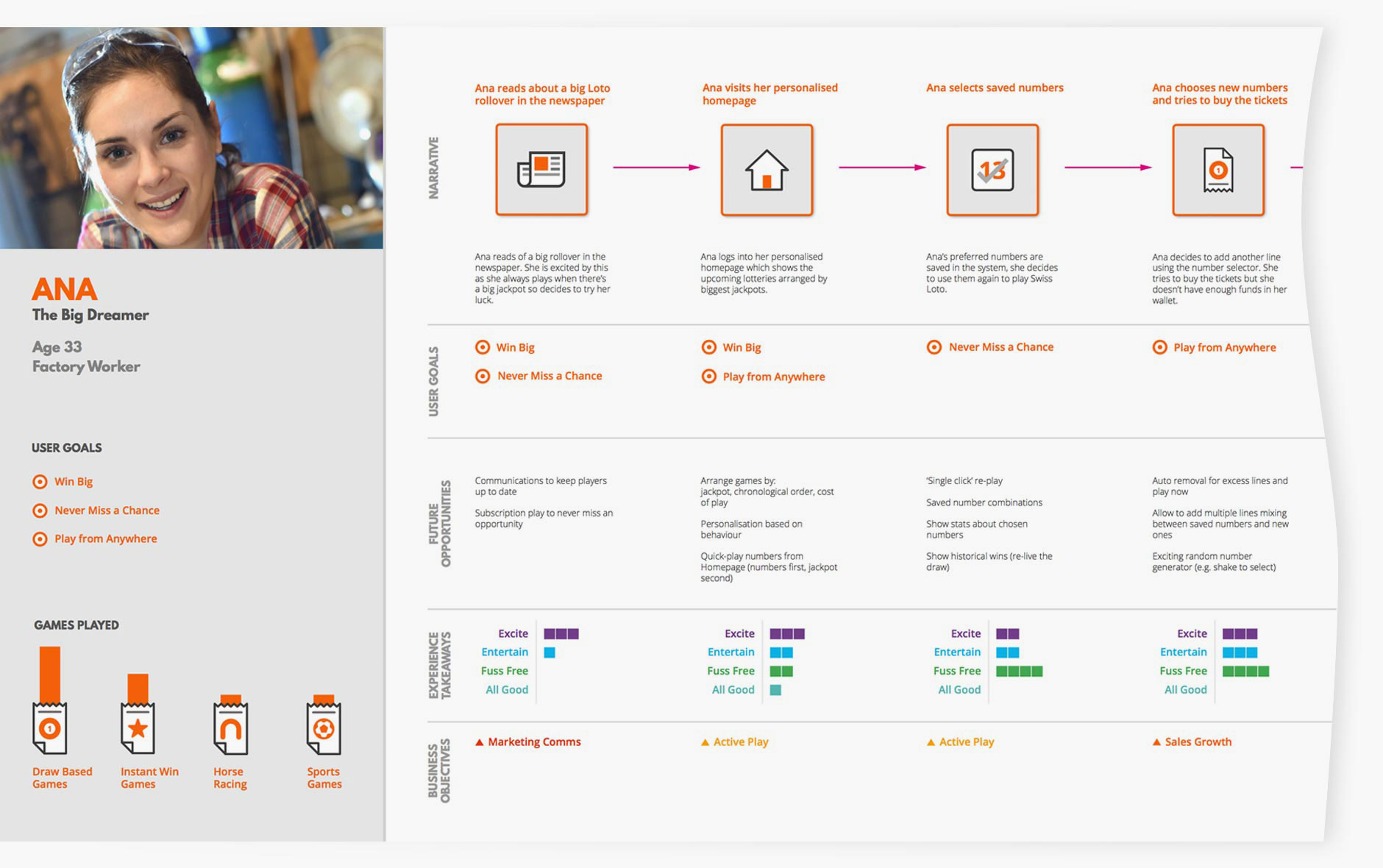 During our discovery phase of work we identified four player types for whom we design the system for. Ana – The big dreamer. David – The offline player. Julie – The social gamer and Lucas – The football fan.
The new platform
Lottery play
Centre stage in the proposition is Loterie Romande's draw based games. From landing screens that enable choice and seduction through to play screens that are fuss-free, the new experience handles players on any device.

Horse race betting
Delivering the PMU suite of races across desktop and mobile was a challenge, the key to which is a visual and easy to navigate EPG style interface. Visually we found a way to capture races that felt very different to the norm and so finding LoRo a unique flavour on a popular part of the offer.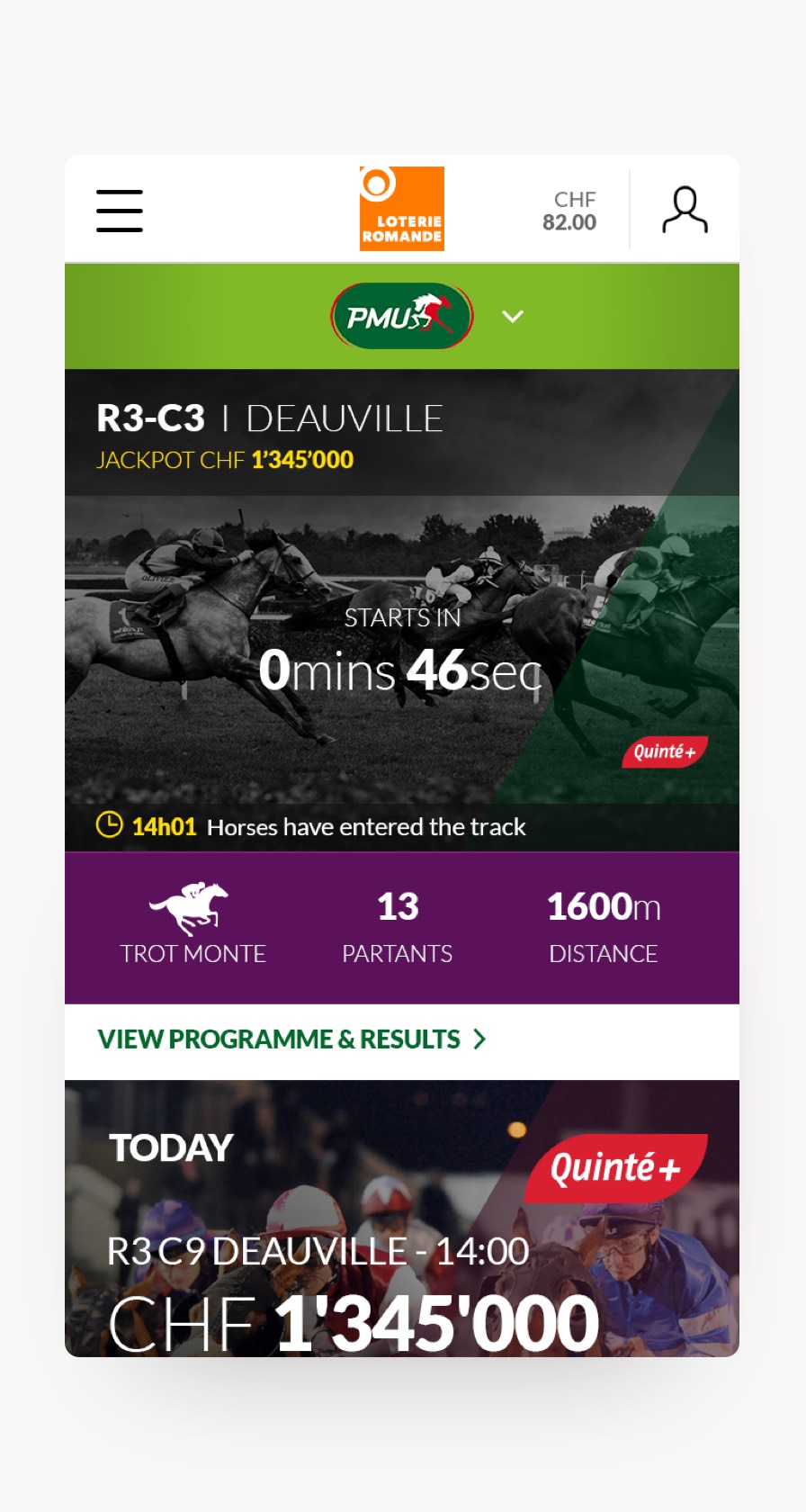 Instant wins
With the new lottery platform comes the ability to deliver Instant Win Games at a much more rapid rate. This speed-to-market provides LoRo with a platform to test new ideas live and enabled us to create a simple App Store style solution to browsing an ever growing catalogue.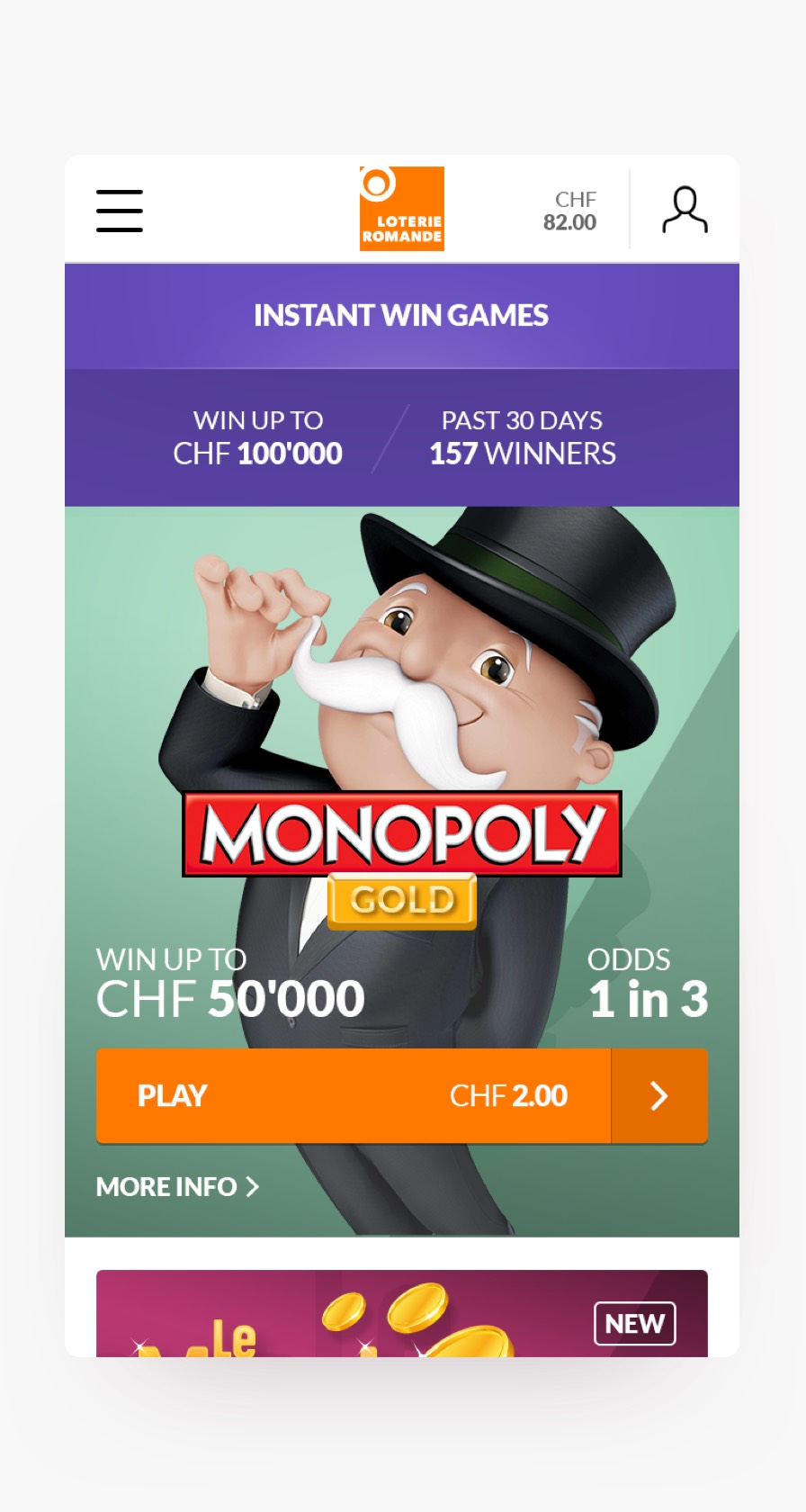 Actionable account area
The account area allows players to manage their play, such as limits and their wallet as you'd expect. But it also allows them to see what upcoming bets and games they have and build a sense of anticipation in the run up to the event.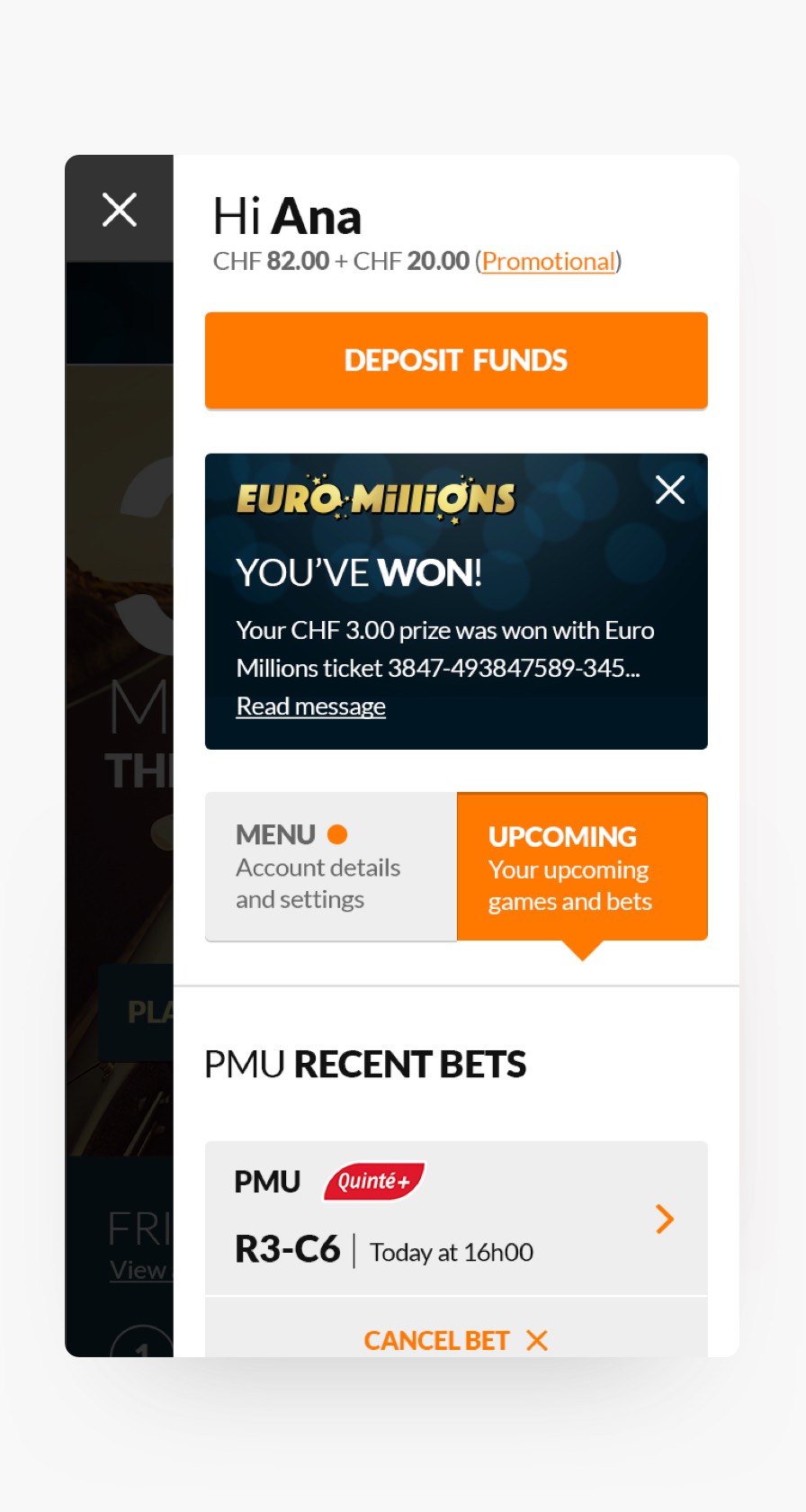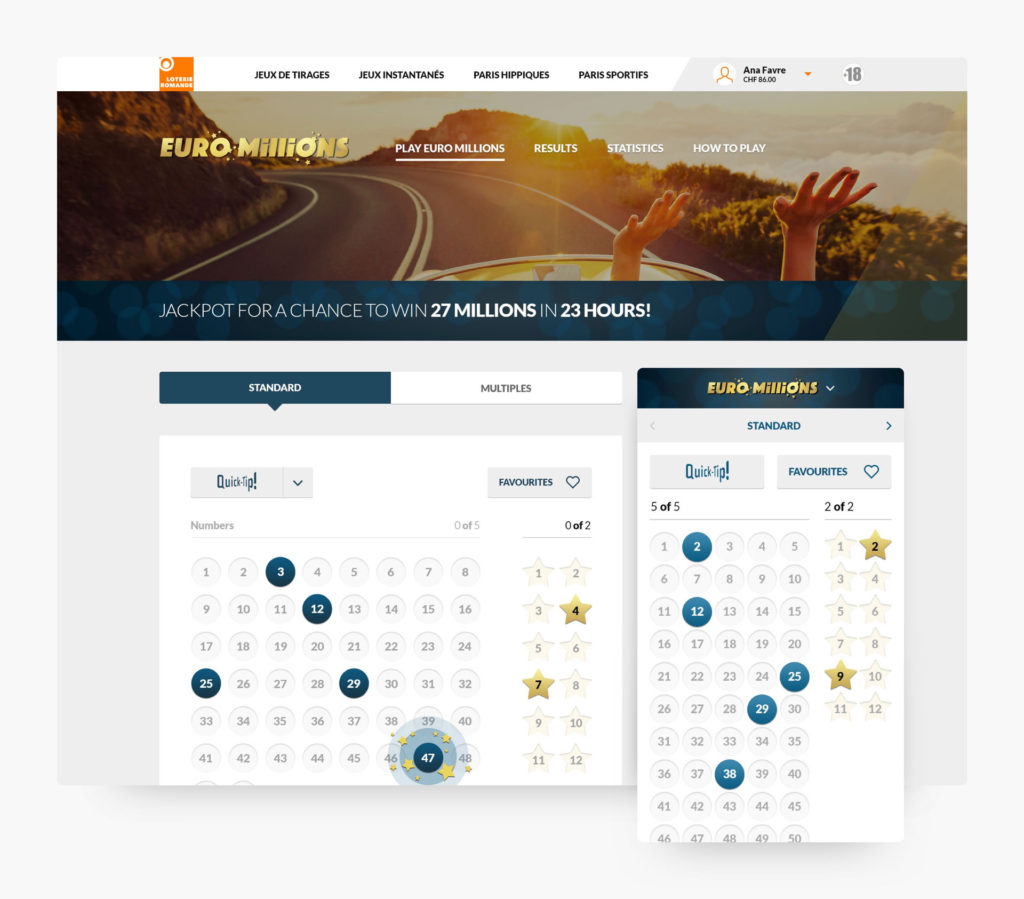 I have worked with many agencies throughout my career and I must say that Else is the agency that has impressed me the most. The quality of the designs they delivered were beyond my expectations. We entrusted them with a very complex project and the whole team managed, with a user centric approach, to immerse themselves in the very specific world of our customers."
"I would recommend Else without any hesitation. The Else team is creative, full of new ideas and very talented
Céline BRIOD, Head of Digital marketing & eCommerce Loterie Romande
Awards