Bridging the information gap for patients and carers
Improving the life of patients through a patient-centred service
Family-owned since it was established in 1885, Boehringer Ingelheim is today one of the pharmaceutical industry's top 20 global companies.
A research-driven company with the goal of improving the health and quality of life of patients, their focus is on diseases for which no satisfactory treatment option exists to date – and consequently on the development of innovative therapies that can extend patients' lives.
Putting the patient first
ELSE has been working with Boehringer Ingelheim since May 2017 on a range of patient-centred care services for people affected by respiratory health conditions. One of these conditions is scleroderma, a rare autoimmune disease and we worked as lead agency to realise the More Than Scleroderma service.
The ambition has been to provide a service that speaks to anyone impacted by scleroderma at every stage of their 'journey' — considering what information someone needs at their individual point of need.
What is scleroderma?
The immune system becomes overactive and attacks healthy tissue within the body. 2.5 million people worldwide have scleroderma, and in the UK there are 12,000 people diagnosed.
People can live with this as a chronic condition for years and it may never worsen. However, in some cases, it can be fatal. While there is no cure to the disease, there are many ways for people to manage their symptoms, take control and live a good quality of life.
Every journey is different. Emotions change as well as needs.
Currently patient care websites tend to be a direct translation of the static content from leaflets and booklets. As such, they mainly offer general content for all patients and are designed to be read from start to finish, like a novel.
However, due to the complex nature of the condition, and the difficulty in diagnosing it, patients have vastly different experiences and needs.
Our aim was to leverage the ability of digital to make a service more targeted to a patient's current needs, allowing them to access the content they need now and pre-empt what they may need next.
Charting the patient-centred journey
Based on patient insight and case files, we created persona-led patient journey maps that covered all diagnosis stages — from experiencing symptoms to end-of-life care. Each persona enabled us to see the part of that journey that most affected them and how we might mitigate some of the negative feelings they would be going through, along with providing new opportunities to support them.
At each stage we questioned the depth of content, arriving at a 2, 5, 10 model for content design. The tone of content was designed to match the emotional needs of the patient, carefully and respectfully balancing between factual information and encouraging support.
The journeys enabled us to find new and appropriate opportunities for the service and also to understand, at a detailed level, the different individual needs that may be in play, such as those of carers, loved ones or clinicians.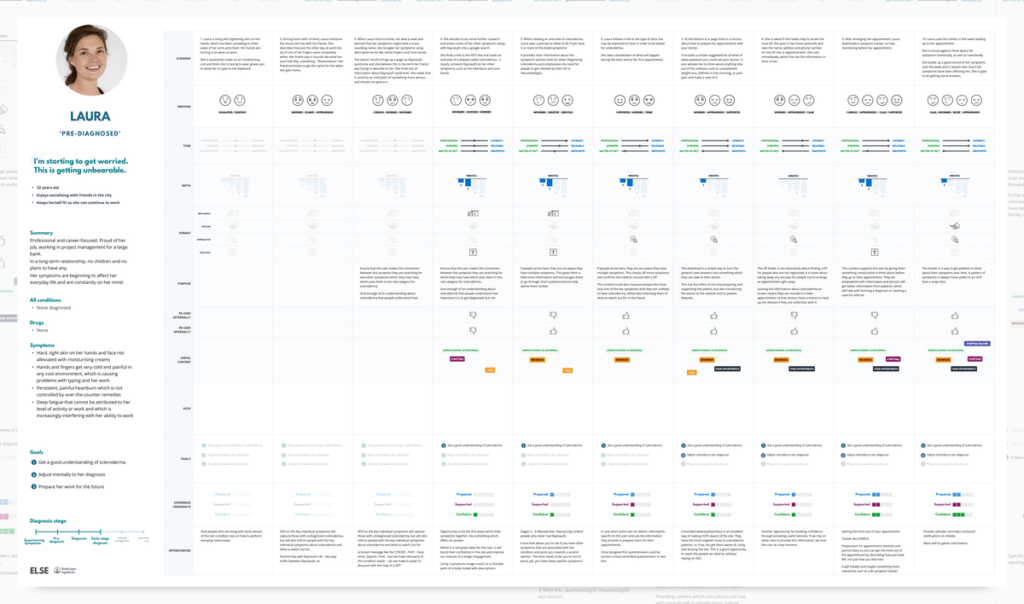 Visualising the steps
Each step from the patient journey was then brought to life through iterative concept sketches. Starting with a high-level flow, adding shape to each stage, before refining to a set of components that could be used to serve up the right content at the right moment in the journey.
These 'red routes' were then vetted with the stakeholder teams, before being digitised into a site structure and page designs.

Architecting the way people feel
The Experience Framework links a brand's intention to the actual experience a user feels when they interact with us. It's a short document that culminates various insights to create a statement of intent and actions that all touch points and capabilities can align to.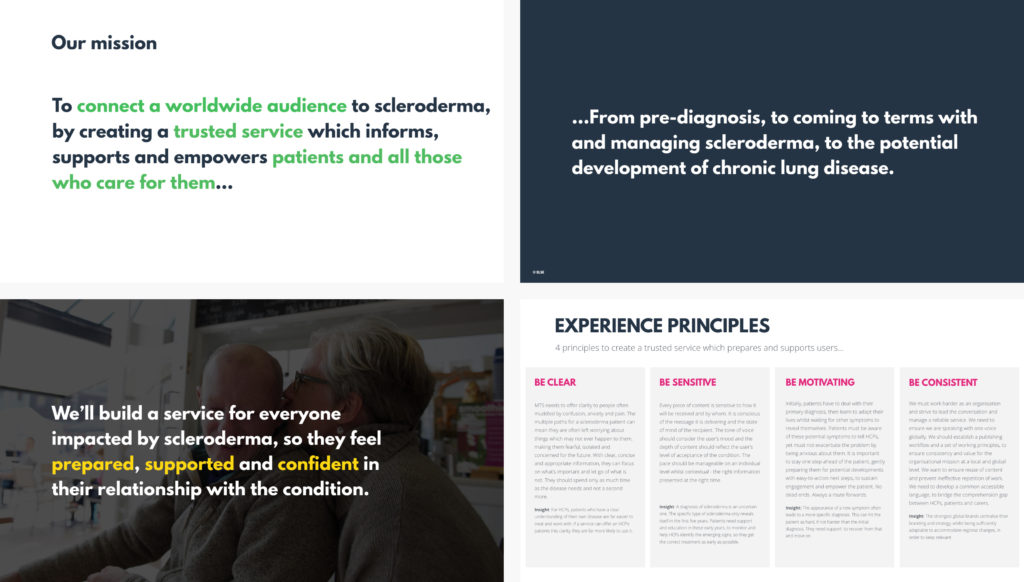 It's important to understand and define what we want people to feel as a consequence of interacting with the More Than Scleroderma service and how best to support this. These become our desired takeaways for everything we do and form an important part of the strategy for delivering a truly patient-centred service.
Identifying templates and structure
From design definition to finished designs
Module catalogue
A catalogue of modules was created for global use. Each module had a guide around usage for both content writers and developers to work from.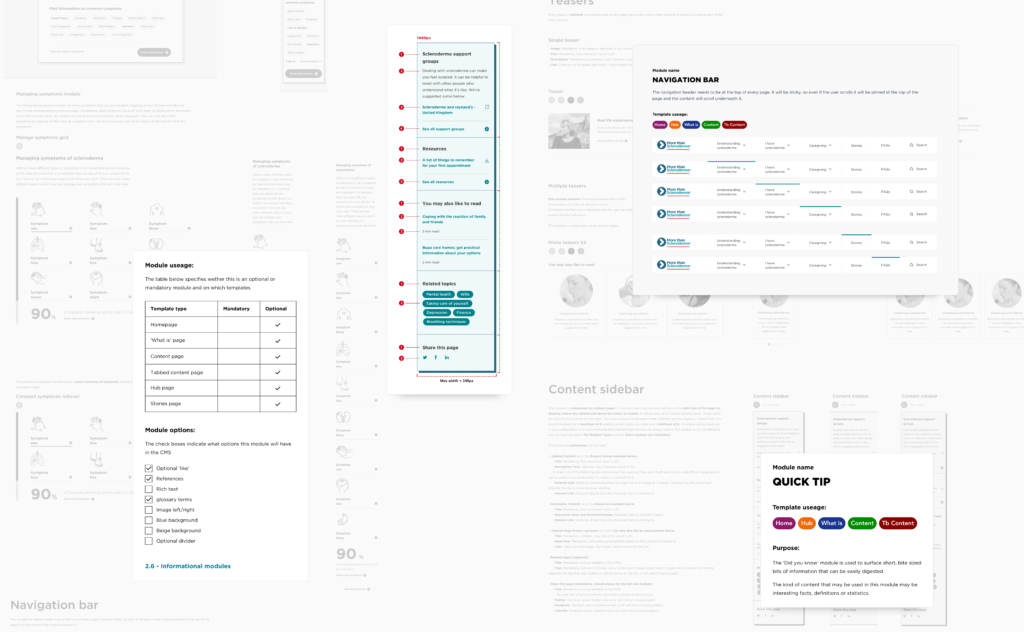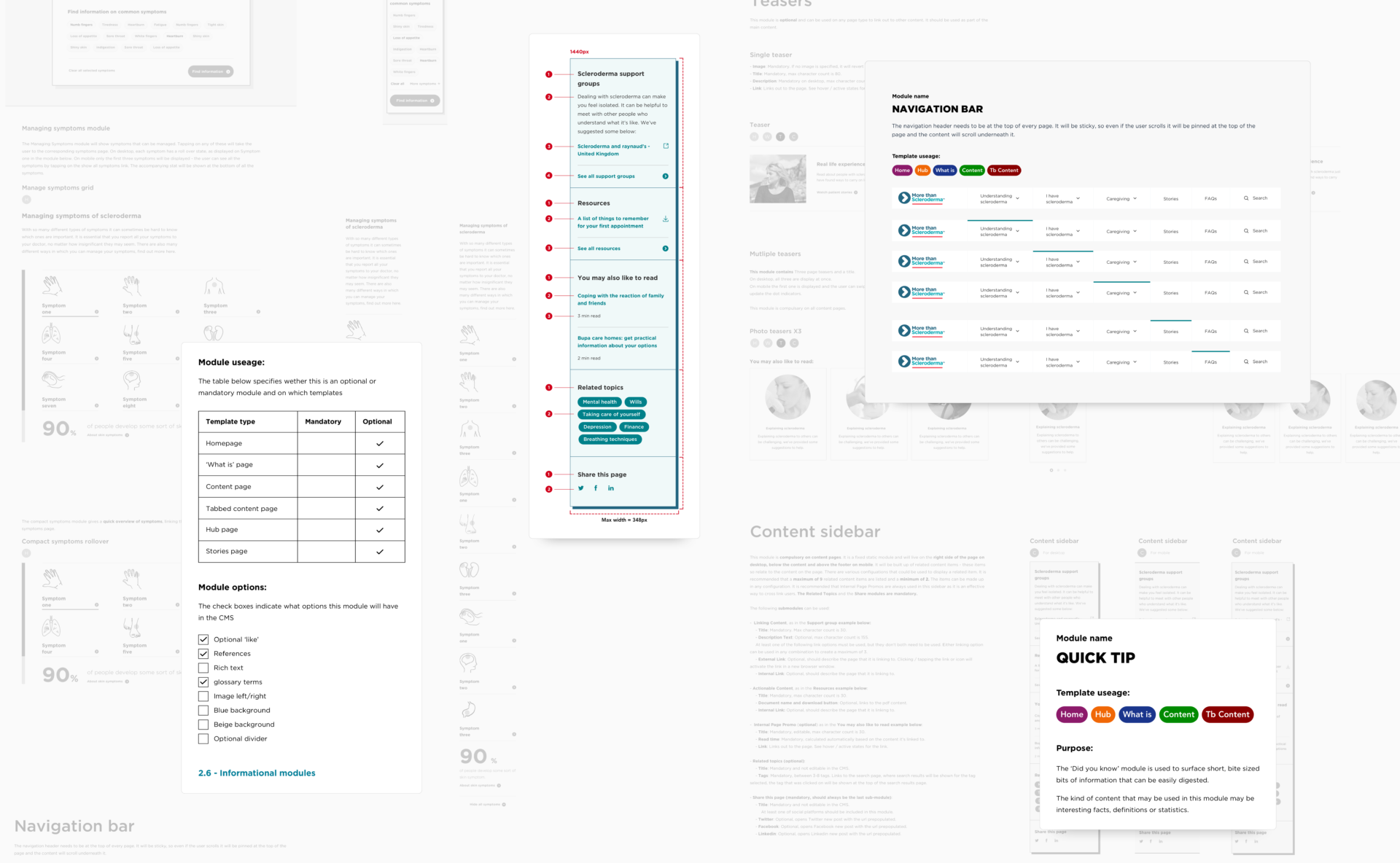 The overall information design is aimed to reassure those who visit the site, whether they are affected by scleroderma directly or indirectly, that they are in a safe and reliable environment where they can find information to help them understand and manage their condition and situation.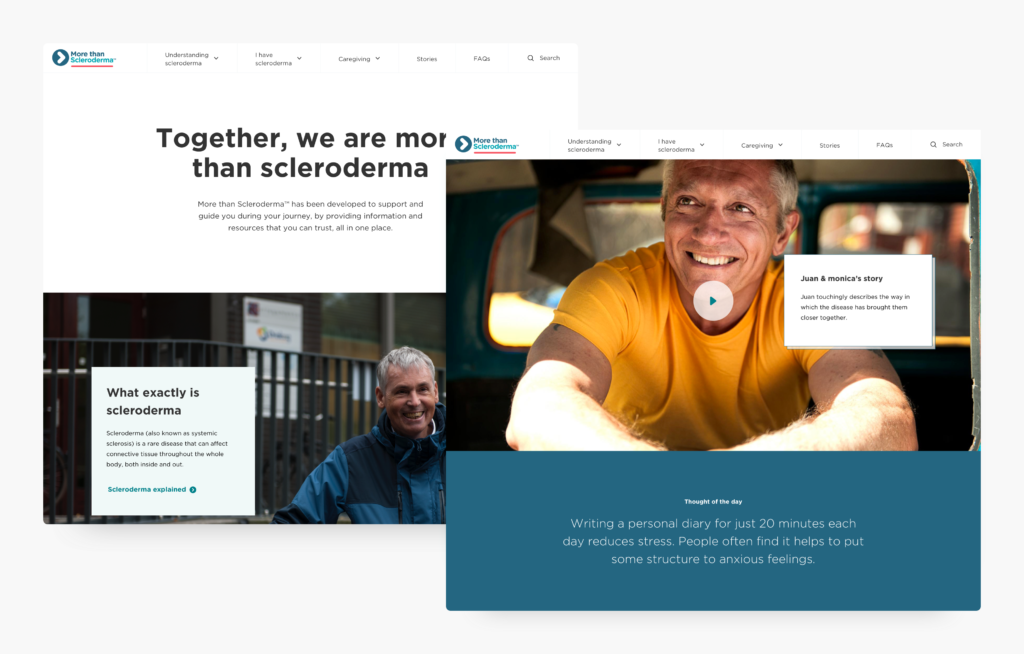 The stories hub aims to provide support and hope to patients and caregivers alike, allowing them to view the condition through other people's experiences and see how they manage the disease.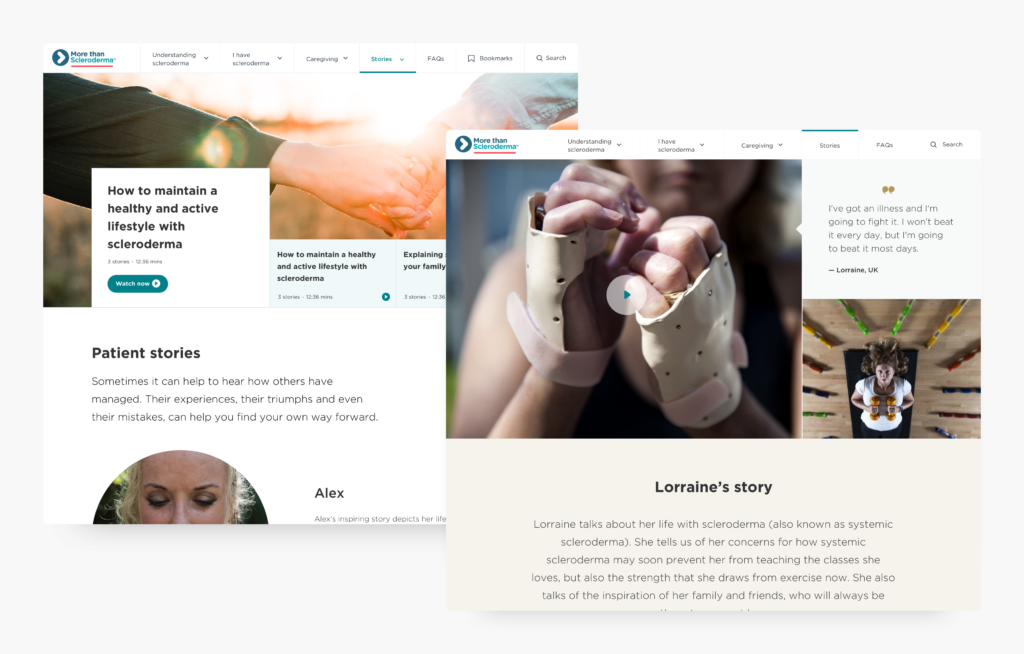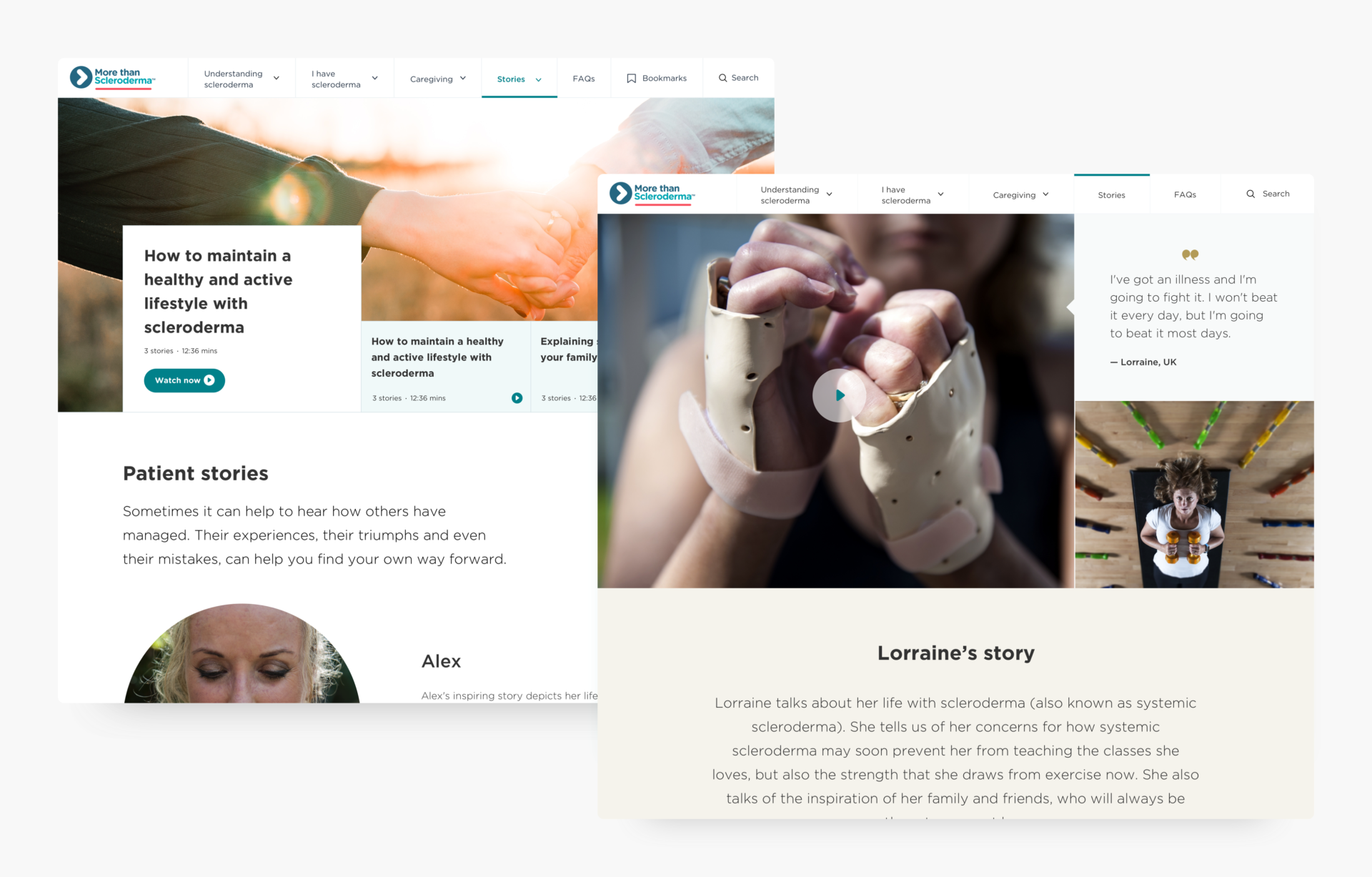 More Than Scleroderma is optimised for mobile and tablet viewing, allowing users to access the content at the right time and place to suit them.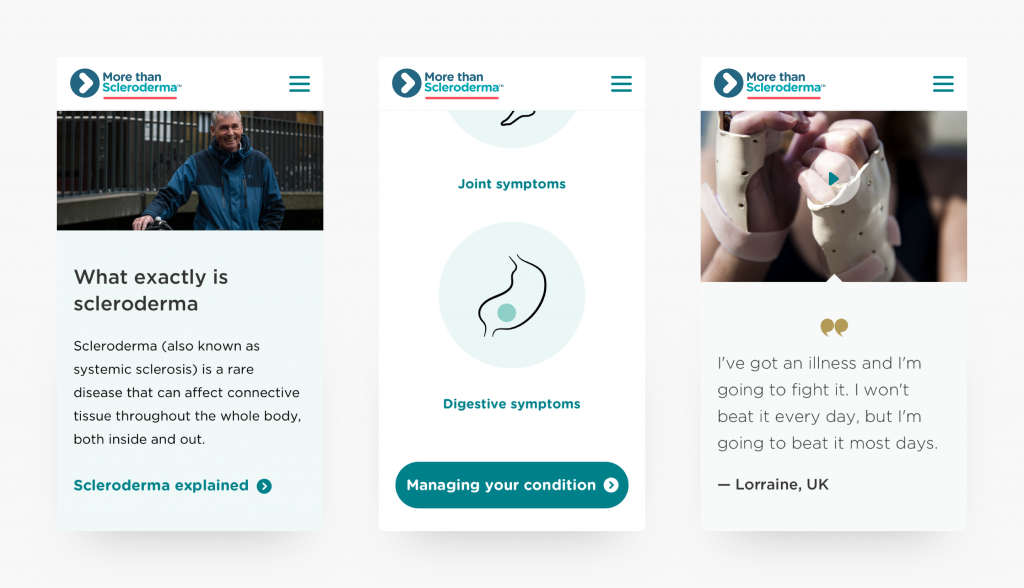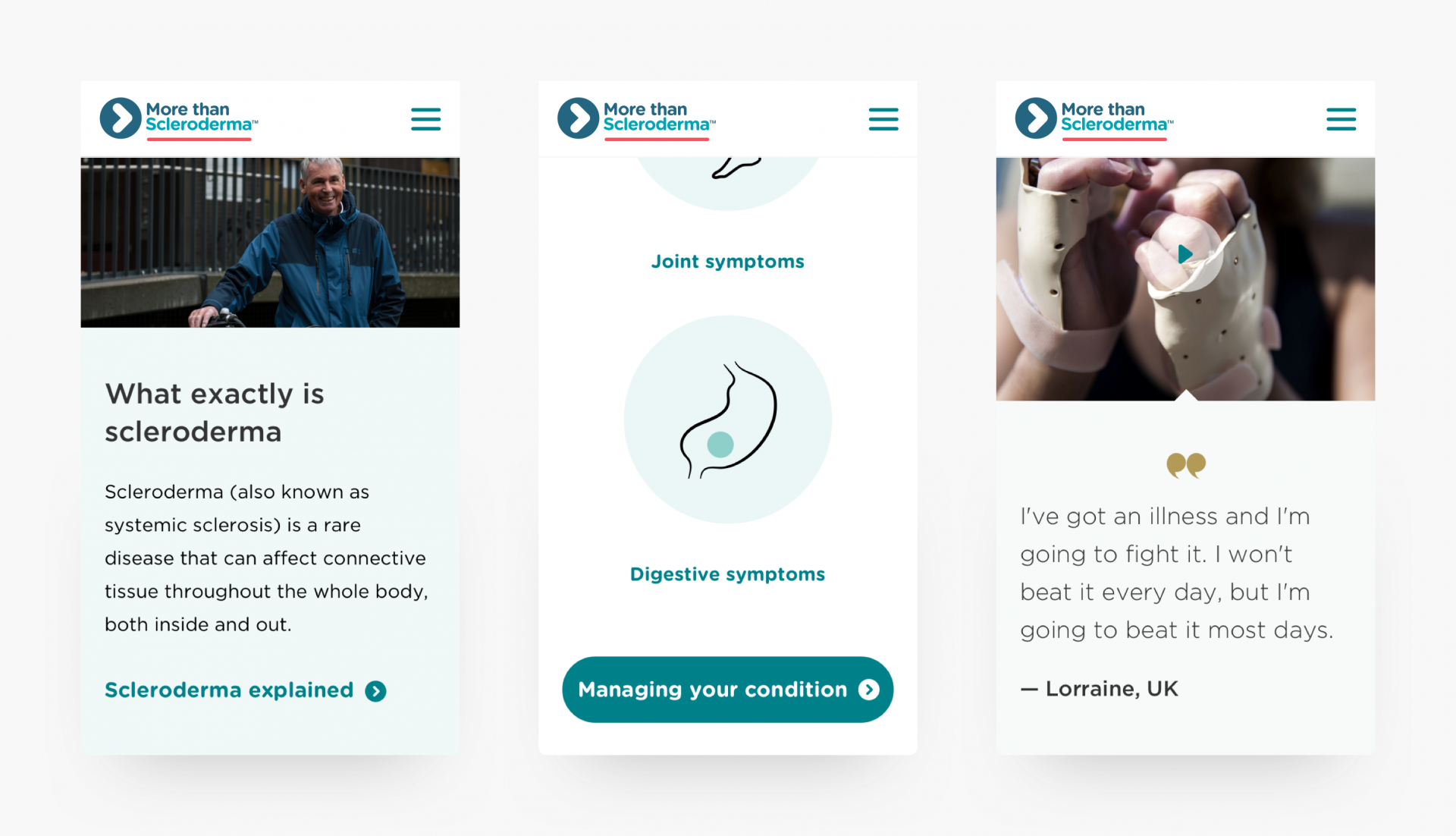 Results
"The team and I worked together in a truly collaborative manner for 12 months. The team upskilled quickly by investigating the science of the disease area and, more importantly, sought to understand the life experience of those living with a condition so rare that years of suffering and misdiagnosis is commonplace.

The fastidious nature of their UX research and design methodology left no stone unturned in the drive to define, refine and produce a service that delivers true value to an audience underserved online.  

Most impressive about this team was not just their unrelenting work ethic and outstanding delivery in UX designs, but their sensitivity to the real people impacted by our projects."
AliHannah Delaney, Senior International Digital Manager at Boehringer Ingelheim.
Why ELSE?
Our work with BI has encompassed our core UX & Design, Research & insight capabilities. We've helped them transform the way they deliver work and sped up the sign-off process. We've used real patient insight to craft a service that helps build clarity and comprehension of information.