UBS
SmartWealth
A new proposition for the world's largest wealth manager
How do we engage a new breed of investors?
How can the world's largest wealth manager, traditionally the preserve of high net worth individuals, engage a new breed of investor? ELSE were tasked with helping the UBS innovation team outline and prove the business opportunity. That meant defining a new service and working with UBS to deliver the proposition to market.
The product needed to deliver against the high service standards set by the UBS Wealth Management brand, whilst taking all client interactions online, without a human presence. The service would first need to switch people on to the idea of investing and taking responsibility for their future wealth, while ensuring that users felt confident, informed and supported.
The Changing Landscape
Providing wealth management services requires significant investment in expertise. Client advisers, market analysts, investment managers and more, all need to meet extremely high standards. A typical wealth management business is reliant on the relationship between client and advisor, which limits growth potential and raises the cost of the product.
Engaging expert advice and support for managing your wealth therefore only makes sense if you have a lot of wealth to be managed. But much of the insight and expertise created by wealth managers could equally support mass affluent groups to grow their wealth and achieve their life goals.
Introducing UBS Smartwealth
We designed a solution smart enough to take the bank's expert knowledge and translate it, so that users were presented with clear, actionable information. UBS SmartWealth goes beyond the 'robo-advisors' currently on the market, by offering regulated financial advice.
This means the system has to interpret clients' financial status, capacity for loss and attitude to risk, in order to offer suitable investment strategies. UBS SmartWealth then executes those strategies, using the all expertise at the disposal of the world's largest wealth manager.
Shaping the Product
Using a Design Thinking approach, together with UBS we unpacked what a wealth management platform could offer this new audience. Over three months, we invited around 40 different stakeholders to spend time in our studio, to help craft the proposition.
Drawing on original research, we then created an experience blueprint to explore the customer journey
We mapped out what users would be thinking, feeling and doing at each stage, which provoked over 60 experiential opportunities by which we could deliver this to market.
Within this time, we took a top-line idea to proof-of-concept, meaning UBS could see what the product might look and feel like. We could also use this work to further drive discussions with key stakeholders around the business.
Delivering UBS Smartwealth to Market
After eight months, having jointly presented the final business case and vision to the UBS executive team, the project received the necessary approval and funding for a beta launch.
Within weeks of presenting to the board, a new team had been mobilised within UBS and the product building had begun. The team operated as a start-up inside the organisation, to allow us to be more flexible and agile.
The UBS team quickly ramped-up to 50 people, including five designers, 10 business analysts and over 35 developers and system architects, to deliver the product to market.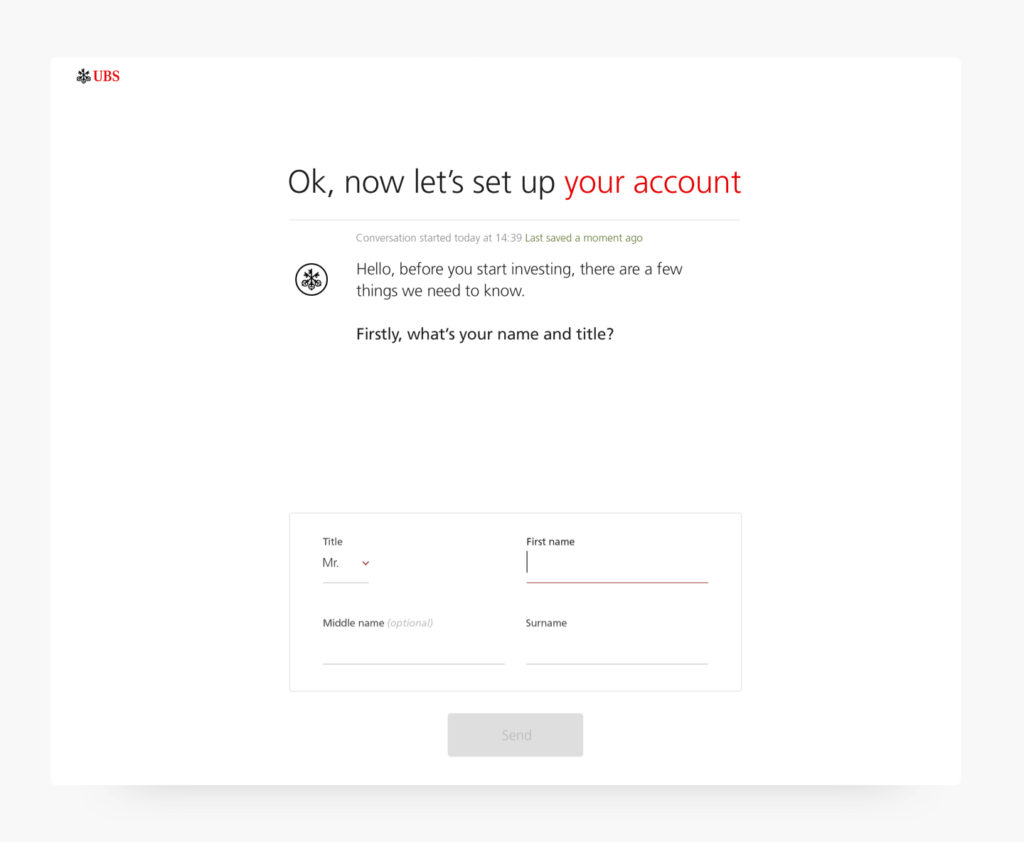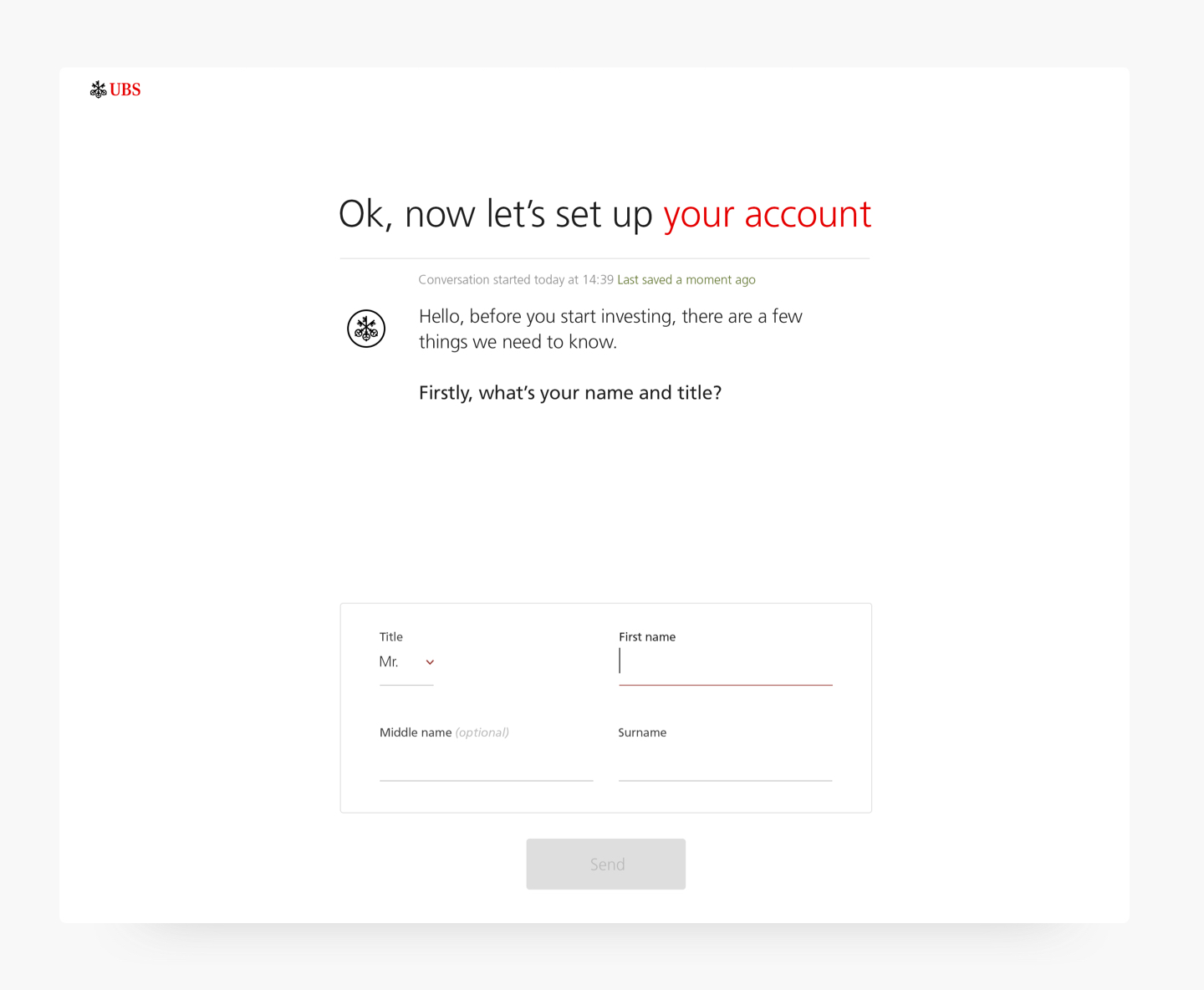 Onboarding
Financial applications can often have long and involved on-boarding processes. SmartWealth introduces a chat-style interface, to engage new clients around this process, while making the steps as short as possible.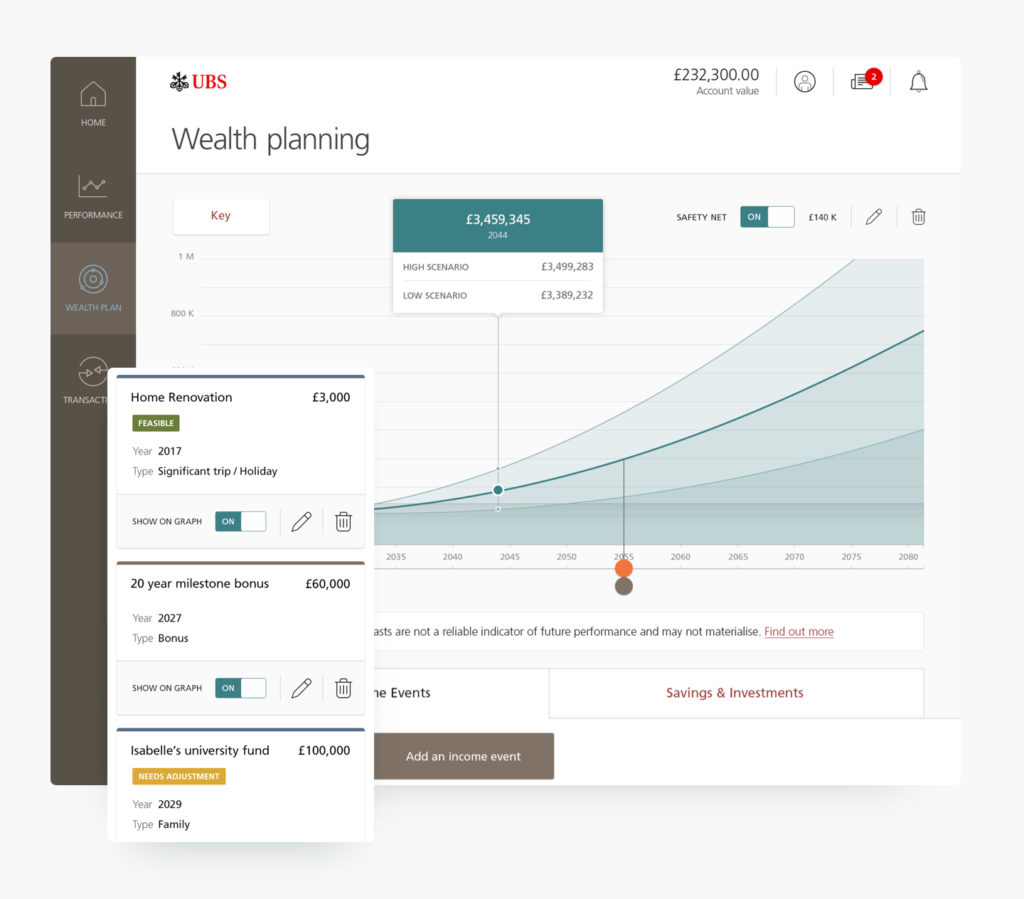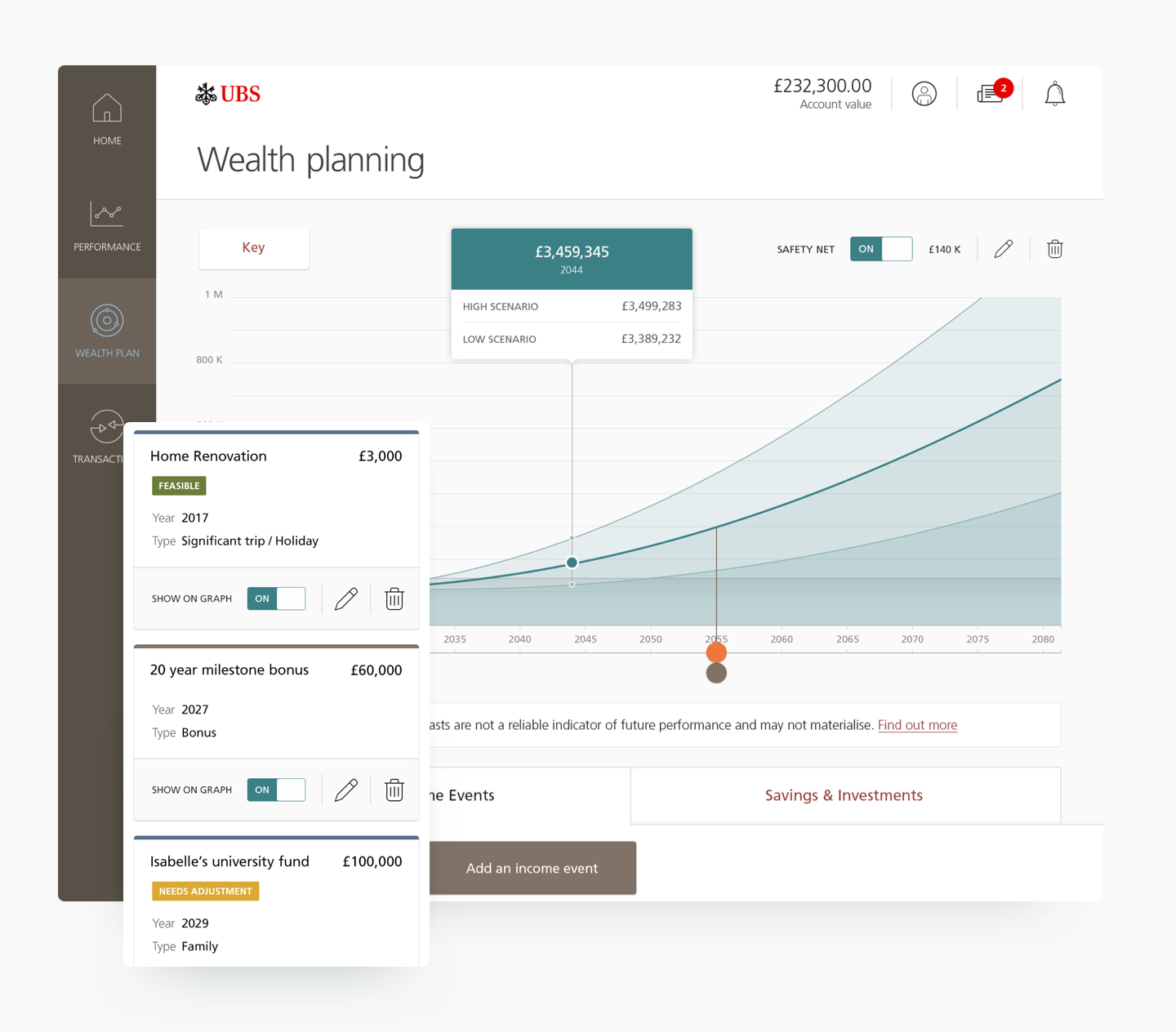 Wealth planning
Wealth planning is the backbone of SmartWealth. It encourages people to take responsibility for their wealth, by enabling them to visualise their wealth against life goals.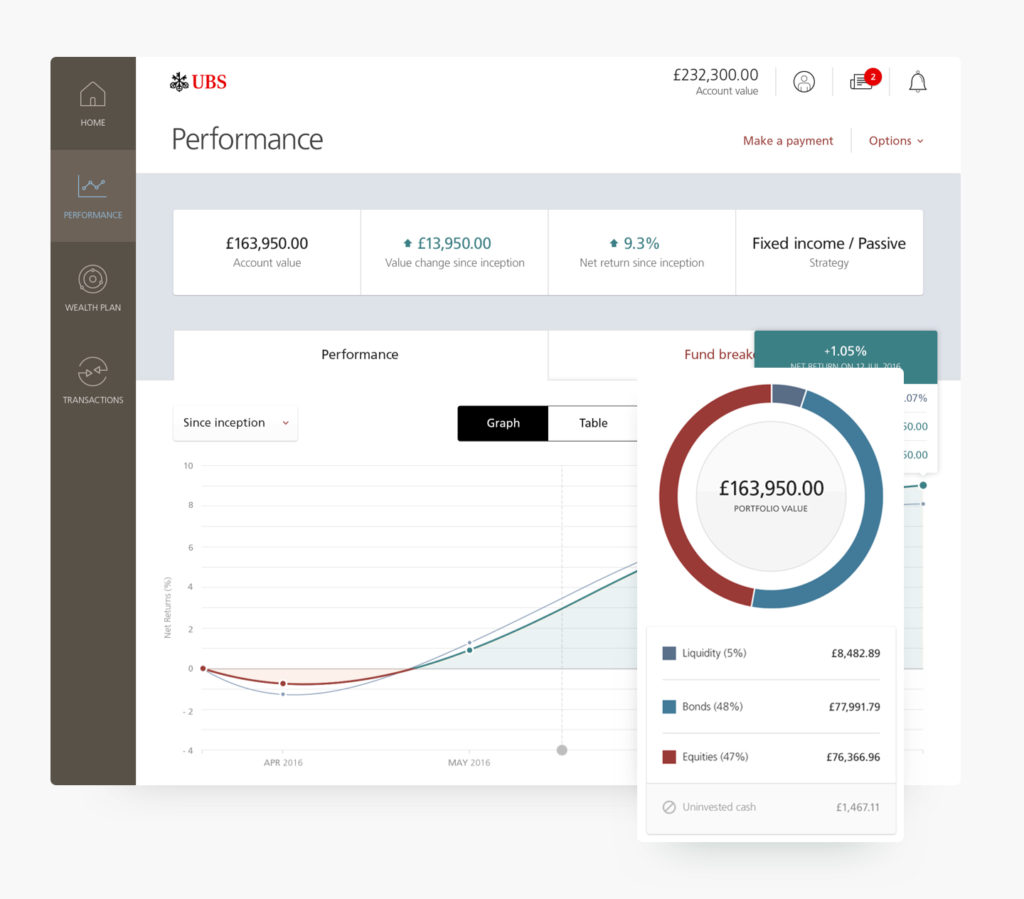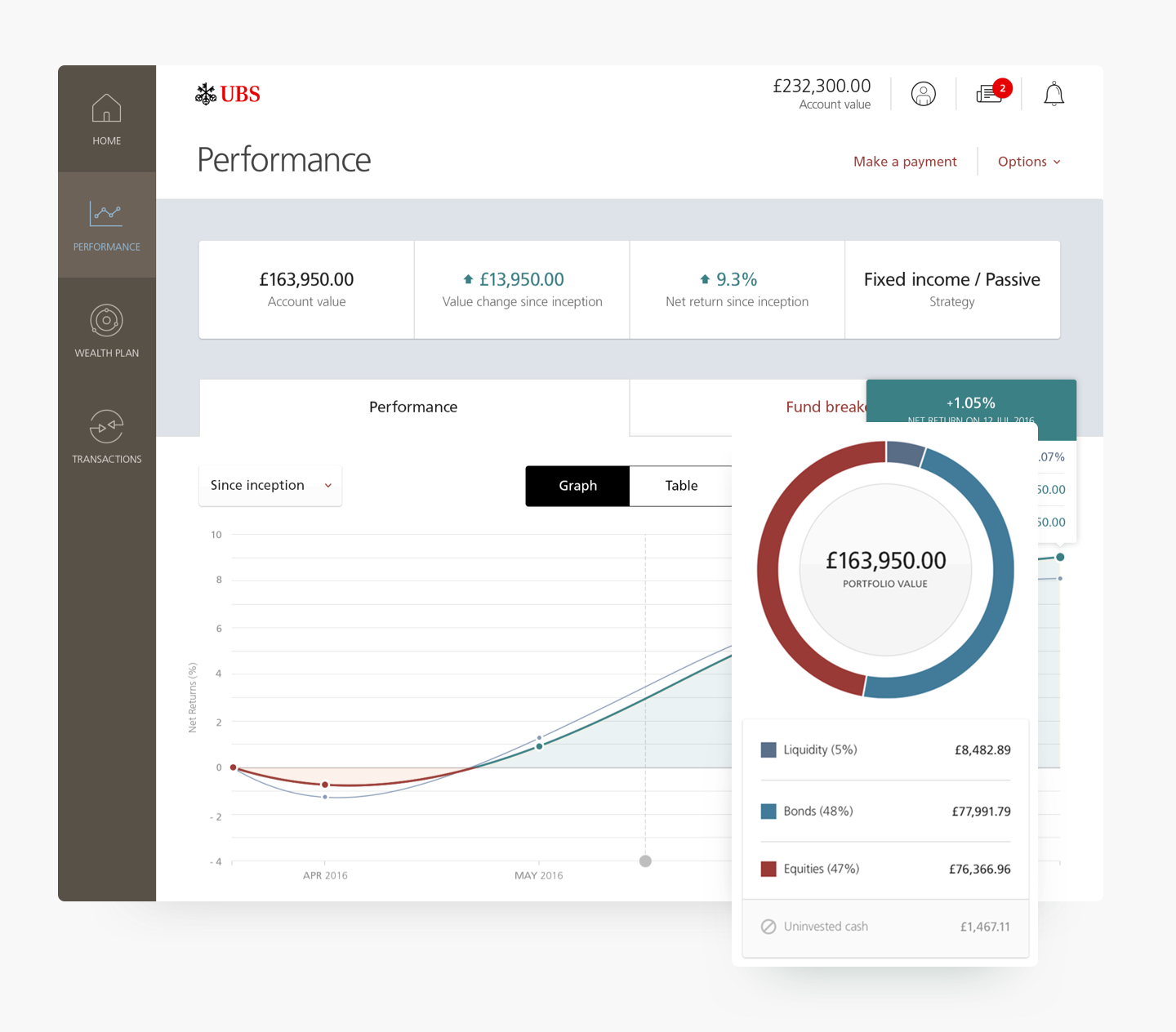 Performance 
Portfolio performance encourages clients to view their investment over a long term view. Individual portfolios can be interrogated around each asset class and its contribution to overall performance.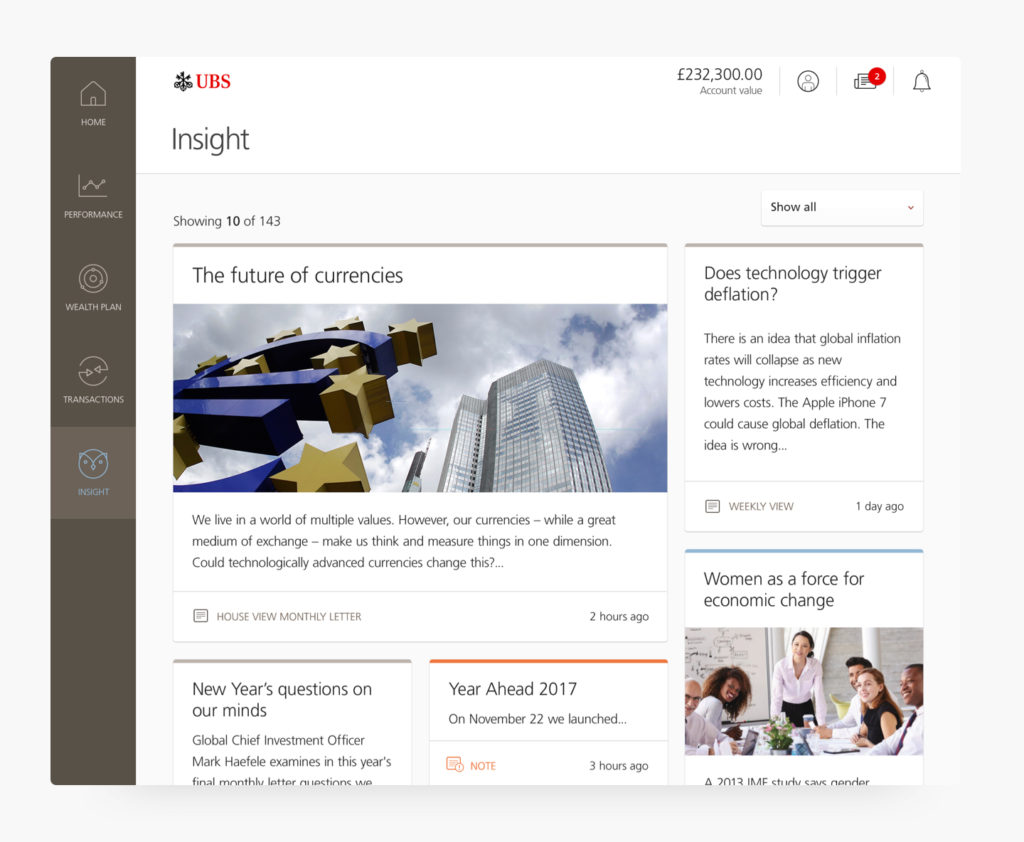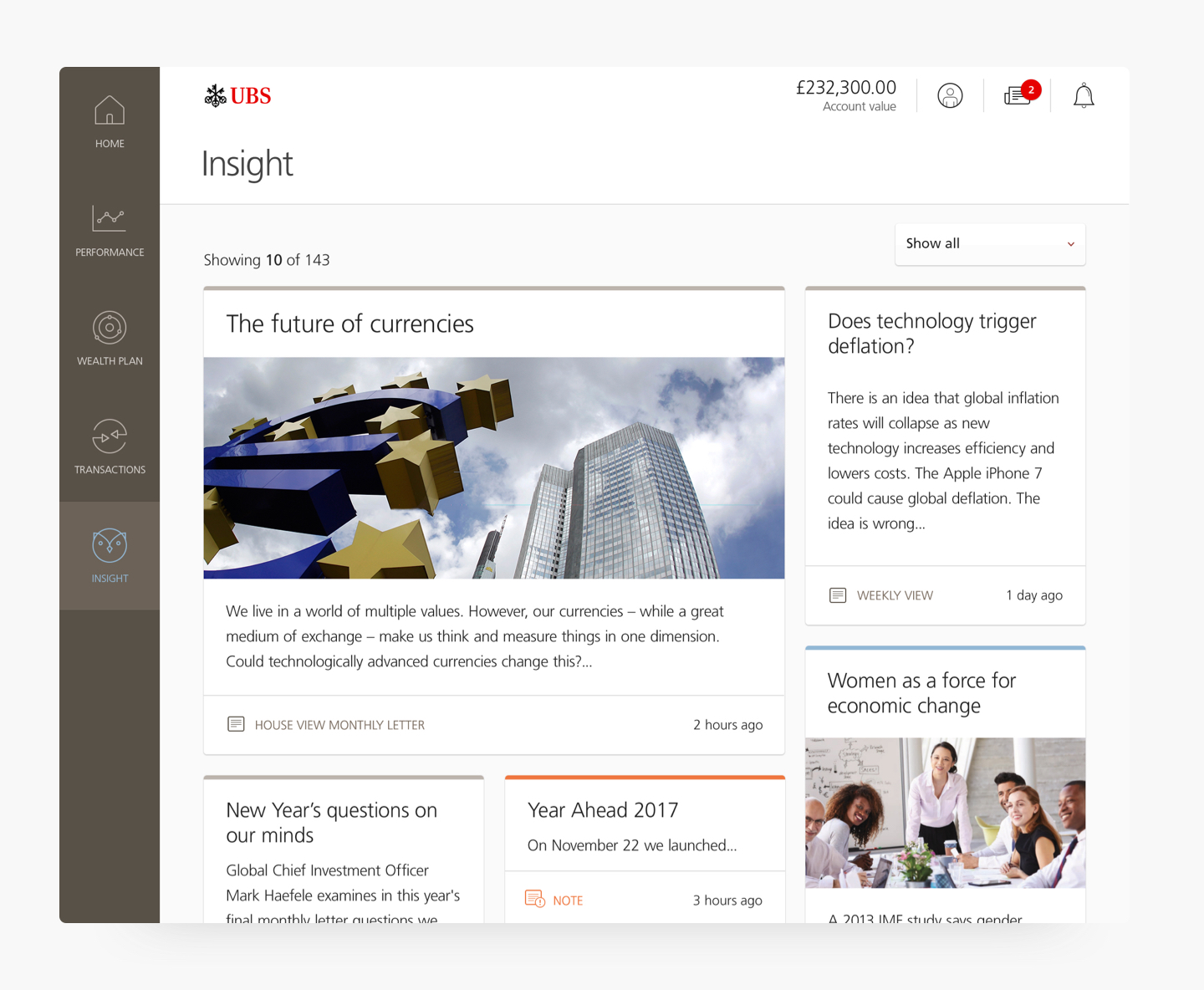 CIO 
SmartWealth leverages UBS's CIO (Chief Information Office) content, to build an understanding of how market events could affect a client's portfolio and what action UBS are taking as a result.
"ELSE became a fully-integrated part of our team and played a key role in making UBS SmartWealth what it is today. ELSE'S work helped take us from complex ideas and problems, to a living and breathing product, that will make a positive, meaningful impact on people's lives."
Shane Williams, Co-Head of UBS SmartWealth
Awards
In May 2017, SmartWealth won the 'Technology Innovation of the Year' category at the 2017 Magic Circle Awards, sponsored by CityWealth.
Result
SmartWealth is a new kind of investing, that combines digital wealth management with UBS's market-leading expert insight, providing on-the-go, online access to investments at all times. Clients will receive personalised advice, based on UBS investment expertise, and provide a new perspective on their wealth that focuses on their personal goals.
SmartWealth went live in beta mode in November 2016 and saw its UK launch in February 2017. In August 2018 Smartwealth was sold to Sigfig, the US-based RoboAdvisor for an undisclosed sum.