HiP
Disrupting the property market
Today the real value of our homes is locked until we either sell or re-mortgage them — and that's for those lucky enough to be 'on the ladder'. The concept of HiP is to turn home ownership into 'shares' – stored securely via blockchain – where they can be traded to suit home owners and investors alike. This new model creates a positive disruption in the property market by enabling everyone to have access to it.
A positive-sum game
First Time Buyers (FTBs) saving for London's £500k 'starter homes' can find and buy 40% of their home (through a traditional mortgage and deposit), and invite a 3rd party to own the remaining 60% – and share capital growth proportionately
Owners may realise their home value avoiding punitive equity release fees
Renters may invest via the HiP platform into a different home or a scheme they value. Renting today, but not being left behind the market…
HiP investors may buy stakes in secure UK property, where the HiP exchange unites multi-currency investors (including crypto) to bridge the gap between buyers and the homes they're saving for.
Defining a new property concept
HiP is a brilliantly simple and fair concept, but has deep implications for regulatory bodies, lenders, investors and buyers. Given this complexity and ELSE's previous experience on launching new disruptors (including WeFarm and Zhuck), HiP's challenge to ELSE was simple, 'Bring to life the HiP proposition in beautiful yet simple way':
Excite and attract owners and buyers to the HiP platform.
Help the HiP team learn and shape their product.
Enable industry partners to evaluate the product.
Accelerate HiP platform build time.
Do it in 6-weeks (In time for an investment round called: Token Generation Event)!
Rapid sprints, testable prototypes
Given the timeframes and budget for the project, ELSE and HiP quickly established two vital principles for the project's success:
Understand what success looks like for key audience groups in order to prioritise highest value features.
Streamline our ways of working together in collaboration.
Initial co-design sessions helped us to identify and map core audience needs and the challenges HiP must solve for. These were distilled into two end-to-end journeys; one for investors and the other for first-time buyers.
Illustrating HiP's capabilities in this way enabled essential stakeholders to validate and further endorse HiP's potential.
Each journey mapped out the key steps for each audience, focusing in on the 'ownable moments' of that were to become the differentiating aspects of the proposition. From co-browsing and purchase progress for First Time Buyers to providing a funds dashboard for Investors.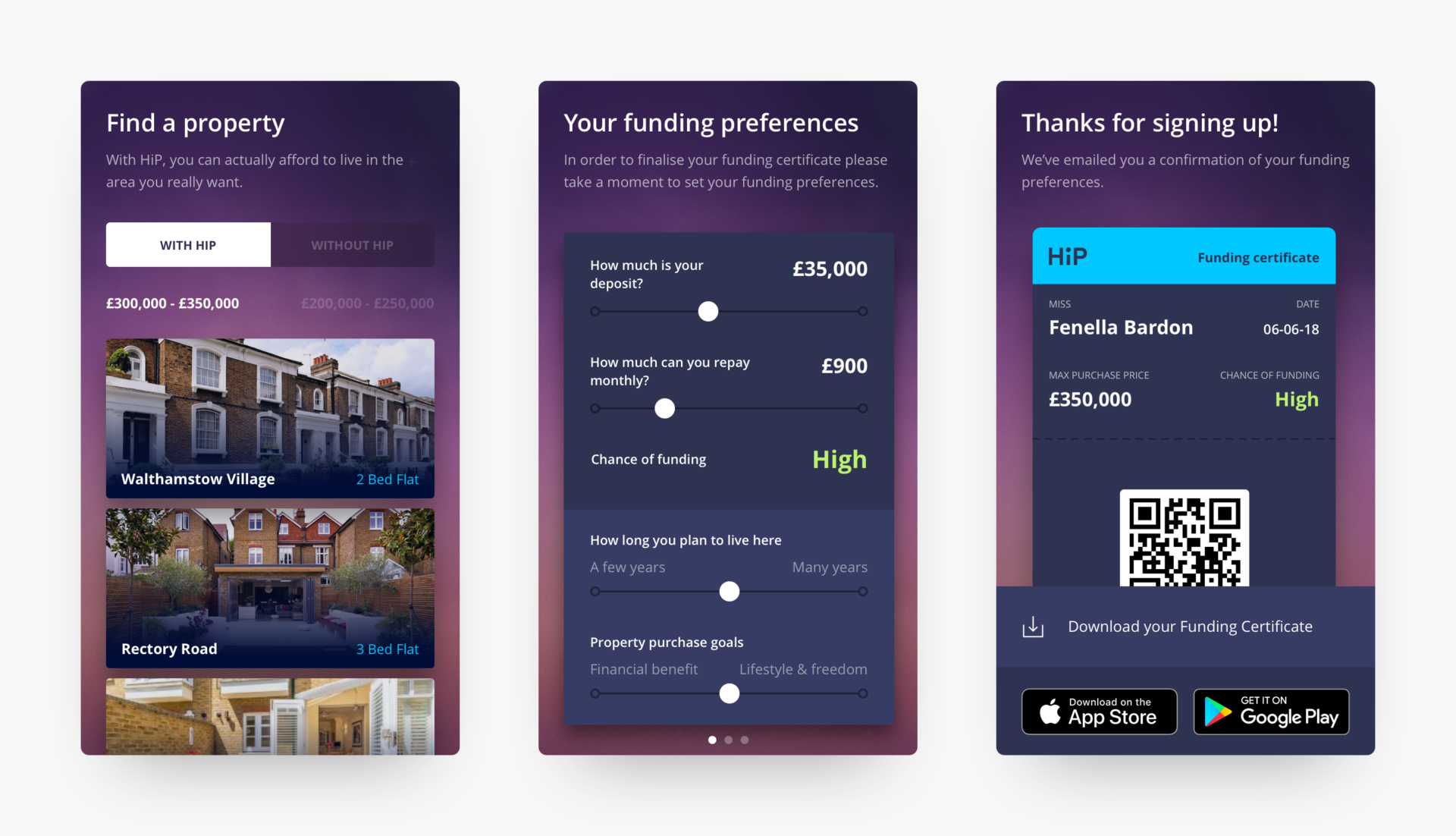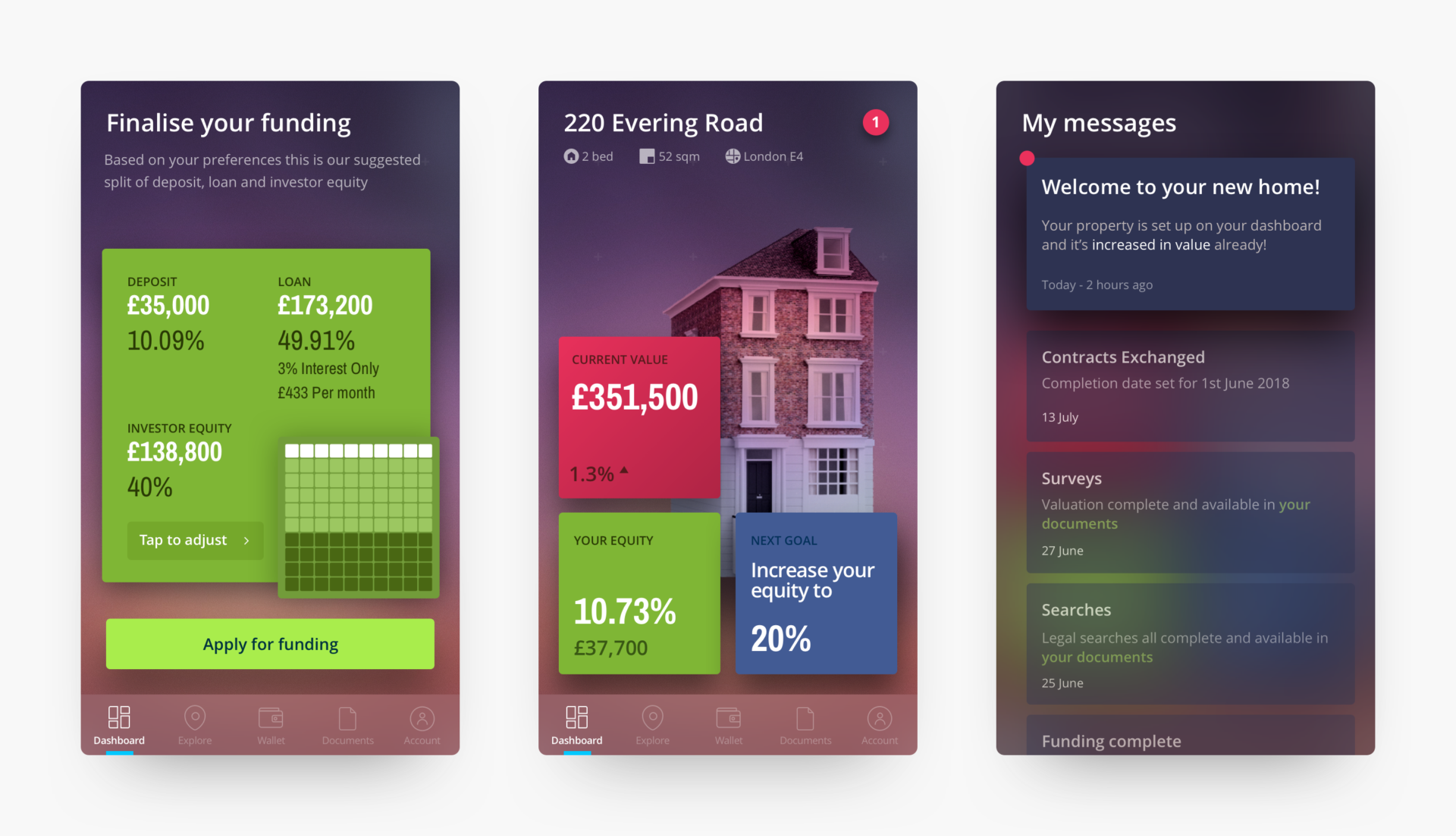 Collaborative work
Co-locating the HiP product team within ELSE's studio turned management overhead into valuable input and consulting activity. Working as one team, we ideated and scamped together, rapidly creating 'brown paper' journeys.
At each step we then progressively enhanced the fidelity to finally arrive at production-ready visuals. This approach allowed us to be on the same page at every step of the way and work at a fast pace without the need for time-consuming sign-off meetings.
Working within time-boxed Design sprints, we crafted detailed prototypes, bringing the key messages for HiP Investor sessions to life and putting HiP in the hands (and mobiles) of stakeholders during seed-funding and partner events.
During the project we also established v1.0 of the overall design system, enabling development to start on some of the more complex areas of the platform. Not a finished system, but enough to accelerate the creation of a real proof of concept for market testing.

The work produced by ELSE actually went further than we could have hoped for; not only illustrating the proposition but visualising an innovative product experience that could capture imaginations and give us an edge with investor presentations.

Stuart Eggleston HiP Head of Product