Future Cities Catapult
The future of urban planning
From their Urban Innovation Centre in London, Future Cities Catapult (FCC) provide world-class facilities and expertise to support the development of new products and services, as well as opportunities to collaborate with others, test ideas and develop business models.
FCC help innovators turn ingenious ideas into working prototypes that can be tested in real urban settings. Then, once they're proven, FCC help spread these ideas to cities across the world, to improve quality of life, strengthen economies and protect the environment.
Empathise – understanding the landscape
Urban Planning is a highly complex subject, and this group of tools was aimed to cater for the needs of different user groups, each with their own needs and goals in the realm of Urban Planning.
To do that, we engaged in a series of meetings and workshops with multiple parties – from FCC stakeholders, to research teams and field experts to gain as much insight as possible so we could then start shaping up the context, the different personas and their needs.
What became apparent really quickly was that the parties involved in Urban Planning had not only different workflows but also oftentimes conflicting objectives, For example a developer would want to maximise profit margins, whereas a developer manager would want to maximise the quota of affordable housing and developer contributions towards community resources. Add to the mix pressure from local councils to meet housing targets and suddenly the complexity increases exponentially.
Empathising with the users
Planners
"I need the right data to establish the housing capacity of the borough. This will help me more accurately assess land availability and infrastructure (SHLAA) which will inform policy."
Developer Managers
"I need to better understand how developer proposals are drafted and I need a benchmark so I can evaluate their viability. At the moment everything is proprietary and non-standardised."
Developers
"Negotiating for a planning permission is a very uncertain and costly process and can take a very long time. At the moment, it is very hard to please both the local council and my stakeholders."
All these agents would interact with each other at different intervals via very rigid bureaucratic pathways subject to long delays, resulting from the lack of digital processes and standardised benchmarks. This resulted in a status quo experience that is opaque, inconsistent, uncertain and inefficient.
These painpoints were then used to forge the main experience take-aways by simply spinning them to their positive side.
The experience takeaways
Transparent
We should always be clear where we get our data from, which sources we use and how that affects the user
Consistent
Data should be consistent in the way it is displayed and each interaction should lead to a set of consistent data.
Certain
Users should be confident about the data accuracy and that their actions will yield a predictable result
Efficient
Unlike the current modus operandi, users should be able to achieve their goal faster and with better results.
Define – from sketches to HD prototypes in 5 weeks
With our Experience Framework set in place, it was time to start the conceptualisation process. Due to the time restrictions, a crazy eight methodology to rapid sketching, seemed the best solution to allow us to quickly identify interesting features which would then be validated by the client.
Deliver – the prototypes
ELSE built 3 interactive prototypes to test the designs with the 3 user types.
Impact – Testing the concept with real users
For the testing of the initial prototypes we adopted a qualitative approach. We directly observed how three key user types – a Policy Planner, a Developer and a Viability Consultant – used the application to meet their needs.
The testing session aimed at generating insights and identifying the areas and user journeys of the Land Portfolio Portal that worked well and the sections that could be improved.
The concepts were generally well received by all three user groups. Most of the feedback revolved around labelling and user journey flow rather than questioning the proposition itself.
Each user group also suggested further features that they would like to see included and provided recommendations on how to make the platform more valuable to them.
These sessions were invaluable as they provided FCC a clear indication on how to proceed and which user group to focus on next.
The findings were consolidated in a report which would then be presented to the Department for Communities and Local Government.
Presentation to DCLG
Following their mission to advance urban innovation FCC went on to present the work in progress to the DCLG to secure further funding for the initiative.
The work was well received and the official results are due in September 2017.
PlanTech exhibition for London Tech Week 2017
Attendees of Europe's largest tech festival visited the interactive installations at the UK's Urban Innovation Centre in Clerkenwell where the prototypes were presented as part of the Future Cities Catapult's initiative to redefine urban planning.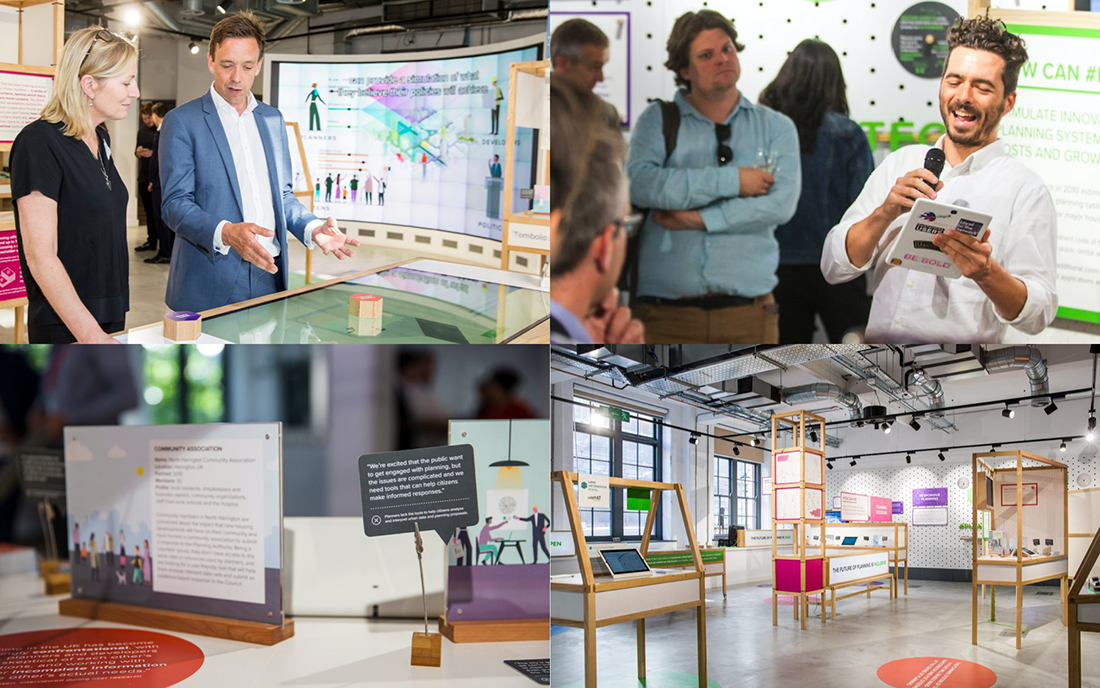 The main agenda was to showcase how digital innovation, urban data, and user-centred design are disrupting the UK planning system. For more information on the event please visit the FCC website.
A closer look
01 A Developer's Default View
02 Intuitive Site Search Filtering Mechanism
03 Site-specific Information and Benchmark Data Comparison
04 Clearly Defined Application Process and Progress
05 Transparent Calculation Methods
06 The Development Manager's Perspective
07 Instant Updates and Communication with Developers
08 All Applications Accessible From One Place
09 The Policy Maker's Perspective
10 Social Infrastructure Layer Options
11 Viability Projected Forecast Settings
12 Social Infrastructure Heatmap
See more on the Future Cities website.